This Insanely Viral Video Is Putting The Internet In A Baby-Trance
by Meredith Bland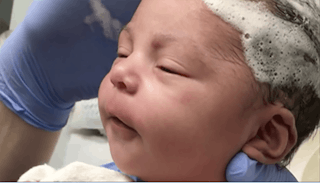 Video of baby getting hair washed makes internet lose its collective chill
Not everyone is a baby person — some of us couldn't wait to get out of that phase and into whatever phase allowed us to sleep again. But one thing we can promise you is that everyone is a "this baby getting her hair washed" person.
Been stressed out lately? Maybe just a little bit? Well, dim the lights and turn on this video. From the sounds of rushing water and the gentle and supportive voice of the nurse to the blissed-out face of the baby, this video will soothe away all your troubles.
Posted just a few days ago by new dad Taveon Glenn, this ovary stimulation video has now been viewed over 19 million times. 19 million!! That's how anxious our country is right now — we are barely hanging on by a thread. First we all had to deal with the election, and now it's Thanksgiving? Please. Give me another hit of that baby.
In fact, this baby is so damn addictive that she's chilling people out around the world. There are comments in dozens of different languages. But since we can't read all those languages, here are some Facebook users sharing their post-baby-wash-video feelings in English:
Others could barely come up with any words at all.
We suspect there might be a whole lot of babies with August birthdays next year.