7 Ways To Take Being A Supportive Spouse To The Next Level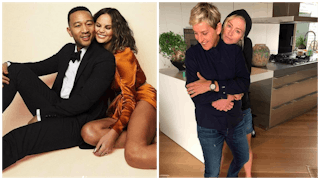 As my husband and I stood at the altar five years ago, overwhelmed with love, I'm sure we had no real idea of what was in store for us. From money challenges to tragic family loss to work promotions and a new baby, we have tested the waters from "for better" all the way to "for worse."
What I love most about my husband is his never-ending support. When I have a good day, he brings home flowers and wine. When I have a bad day, he brings home flowers and wine. He celebrates me for even the tiniest accomplishments, and his unwavering support means the world to me. My husband is always here for me, and he knows he can count on me to have his back forever and ever.
One of my favorite things to do is to observe other couples in the way that they support each other. Not only does it give me ideas on how to be a better wife, but I can show my husband and inspire him to step his game up too. Don't get me wrong, I appreciate the support my husband gives, but some of these supportive spouses have taken things to the next level, and I would not say no to that!
1. Let your spouse know how proud you are of them.
Before Serena Williams went to the U.S. Open, her husband, Alexis Ohanian shared a beautiful tribute video for her. The video celebrated her as a mother, an athlete, and a hero, and it was one of the most touching ways I've seen a husband support a wife in, like, ever.
2. Promote your spouse's work.
John Legend recently posted a sweet pic of him and his wife, Chrissy Teigen with a message about their anniversary. He also just happened to mention her new cookware line, where to buy it, and the exact date that it comes out. There's something extra sexy about a husband who supports his wife's work.
3. Always show your spouse in the best light.
I don't get Kanye West. A lot of the things he says and does lately are just confusing to me, and I'm still not over how he dissed Amber Rose back in the day. His wife, Kim Kardashian, doesn't care what we think about Kanye, though. She only ever shares how much she loves him, how creative he is, and what a good father he is. Kim shows a different side of him that the public doesn't always see, and reminds us that he's human, even if he does act like an asshole sometimes.
4. Tell your spouse how they inspire you.
When Dax Shepard celebrated 14 years of sobriety, his wife Kristen Bell was right there with him to let the world know how inspired by him she was. It's one thing to tell someone that they did a good job for making it through a tough time. It's entirely another, and incredibly meaningful thing to say, as Kristen wrote to Dax, "I want you to know, I see you. I see how hard you work. You set an excellent example of being human." Oh my goodness, my heart! My heart!!!
5. Stay with your spouse through the good times and bad times.
When we take those vows that say, "through sickness and in health," most of us pray that we never have to deal with the sickness part. Guiliana Rancic was diagnosed with cancer just a few years into her marriage to Bill Rancic. Bill honored his vows and was there for his wife as she underwent a double mastectomy. There is no doubt that she would be there for him if the tables were turned, because that's what a supportive spouse does.
6. Encourage your spouse in their role as a parent.
Marriage is already tough, and adding kids to the mix takes the challenge to another level. Even though you might assume your spouse already knows that you appreciate them as a parent, we could all use a little bit of encouragement when it comes to knowing we're a good parent. Neil Patrick Harris did more than just encourage his husband David Burtka. He let the world know what an awesome dad David is. When in doubt, public adoration is always a good gift.
7. Spoil your spouse just because.
You don't need a reason to be a supportive spouse. It doesn't have to be a special occasion for you to let them know you care about them and have their back. Just because love and support is so meaningful and is really the fuel that keeps marriages going. When you're looking at your spouse and thinking about how beautiful, why not capture that moment like Portia De Rossi does for wife Ellen DeGeneres and let them know. Extra points for posting on Instagram and sharing it with the world.
Marriage ain't easy. The responsibility of emotionally supporting another human is a lot of work. When you have someone who does the same in return, though, it makes it all worthwhile. My husband may not support me publicly in the way that John supports Chrissy, or Kim supports Kanye, but he's here for me, and just knowing that makes me feel safe and loved.
This article was originally published on