This is the Absolute Cutest Gift To Give A Dad This Holiday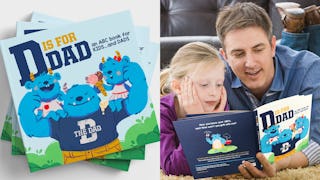 There's not much cuter than a dad snuggled up and reading to the kids. (Which also means they're all occupied, and you can actually get like 5-10 minutes of peace.) Well, our friends at The Dad just launched a new ABC book that dads will LOVE — maybe even more than the kids do!
It's sweet, cute, funny, and punny, and it's a whole new spin on the ABCs, made just for dads. C is for Cargo Shorts, F for Finger Pulling, and L for mowing the Lawn. It's super fun, and the illustrations are absolutely adorable. Plus, it's interactive, with classic dad jokes they can teach the kids. So you can double up on your eye rolls.
It also mixes in some tearjerkers, like "D is for Dad, your biggest fan, and the guy who'll love you no matter what." and "Y is for You, you make me so happy and I'm so glad to be your dad." *swoon*
It's a perfect gift for new dads, old dads, soon-to-be dads, and any other kind of dads. And it's just $18 on Amazon right now. They'll wish there were even more letters in the alphabet!
This article was originally published on