'This Is Us' Crock-Pot Decals Exist, And You're Going To Want Them All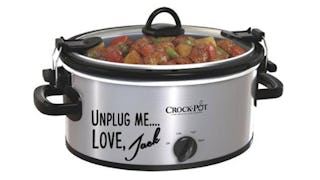 Image via CaffeineNChaos/Etsy
This Is Us Crock-Pots are a thing. Sorry, Jack
Have you finally wiped away that last tear over Jack Pearson's untimely death by Crock-Pot on This Is Us? If not, fair. He was so wonderful and it felt like he was maybe secretly all of our boyfriends. If you are ready to move forward, though, then you HAVE to check out these darkly delightful Crock-Pot decals dedicated to Jack's memory. You will think of him each and every time you unplug.
First off, let's address the fact that Crock-Pot (understandably) low-key freaked out after their product killed off a beloved television character.
"Crock-Pot understands the concerns brought up by last night's episode of "This Is Us," and we too are heartbroken by the latest development in Jack's storyline," the company told The Washington Post in a statement. "However, it is important that our consumers understand and have confidence that all Crock-Pot slow cookers exceed all internal testing protocols and all applicable industry safety standards and regulations as verified by independent third-party testing labs."
TELL THAT TO JACK.
Meanwhile, over on Etsy, artisans were taking great delight over the story development and custom designing a whole slew of Jack Pearson-themed Crock-Pot decals. Priorities, priorities.
There's the simple reminder decal, complete with Jack's loving signature ($8.50).
Then there's the same reminder — but with Milo Ventimiglia's face on it ($5.64). I will probably buy anything with Milo Ventimiglia's face on it.
This one gets a little darker with its branding ($6.00) *Sigh.* Poor Jack.
There's also this sweet tribute, complete with hearts ($10.00). Rebecca would approve.
Oh yeah, and if you're not in the mood for anything cute and are still mad as hell that Jack is dead…this one is for you ($5.00).
By the way, if it's worth anything, Milo Ventimiglia doesn't actually blame Crock-Pot for his character's death. He told Ellen Degeneres during an interview that the appliance that killed Jack was a "slow cooker."
"I own a Crock-Pot. I love Crock-Pot," he said. "Because I think there was a lot of misdirected hate at us—at Crock-Pot—as opposed to a faulty slow cooker from the past." He went on to claim that Crock-Pot is "innocent" in all this.
Whatever you say, Milo. Whatever you say.