'This Is Us' Won Big At The SAG Awards And Their Reactions Are Amazing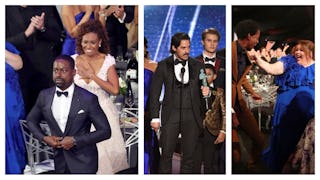 Mike Coppola/ Christopher Polk/ Kevork Djansezian/ Getty
'This Is Us' cast reactions to the win will have you loving them even more
Anyone who is a fan of the hit show This Is Us will be ecstatic with the outcome of the Screen Actors Guild Awards last night. The series won big, but it was their genuine and heartwarming reactions that are reminding people why they fell in love with the show in the first place.
The This Is Us cast won the SAG Award on Sunday night for Outstanding Performance By An Ensemble In A Drama Series. It was clear by their reactions, they were over the moon about the award and to share the big moment with their fellow cast mates.
This is so great:
Joined by the entire cast, Milo Ventimiglia, who plays Jack Pearson, thanked the NBC show's cast and crew and specifically creator Dan Fogelman, saying, "We are just a small collection of a lot of very talented and very hardworking people who work on this show. Without Dan and our talented writers, we would not have words to say."
He then thanked the fans, saying, "The people who watch with us every Tuesday night and embrace this show that reflects positivity and hope and inclusion, we love you. Thank you very much."
The show had some stiff competition in the drama category this year, including from the casts of The Crown, Game of Thrones, Stranger Things, and The Handmaid's Tale were all in the running, making their win all the more sweet.
Sterling K. Brown, who plays Randall Pearson on the show, also won his own award for Outstanding Performance by a Male Actor in a Drama Series. He made history by being the first African American man to ever receive the award. Before delivering a powerful speech, he shared a beautiful moment with his wife.
"What a blessing it is to do what you love for a living. What an honor it is to be recognized by your peers for a job well done," Brown said. "This room is a source of endless inspiration for me. I love all of you y'all. People call us weird and strange. The truth of the matter is, everybody is weird and strange and we just embrace ourselves for who we are."
Congratulations to the people responsible for our weekly, cathartic weeping at the television. Well deserved!