'This Is Us' Is Coming Back For Season 5 Way Sooner Than Planned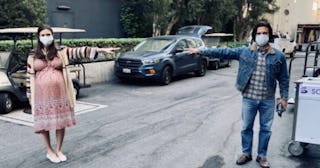 Twitter/Dan Fogelman
The Pearson family is returning to our screens NEXT MONTH, you guys
Everyone's favorite family sob-fest is returning to our television screens sooner than anticipated. This Is Us is officially filming season five right now, and it'll premiere on Oct. 27 — two weeks sooner than it's originally scheduled premiere date. The best part? The season premiere is two hours long. Our pandemic-laden, new-TV-show-deprived brains are screaming.
Production on the show is already underway, after an extended hiatus in between seasons due to COVID-19. The show is taking all necessary precautions to keep everyone as safe as possible while filming — mask-wearing in between shots, separate sitting areas in plexiglass stalls, prop sanitizing, and more. All so we can enjoy the laughs and tears of the Pearson family once more.
The upcoming season will apparently tackle life during the global pandemic "head-on," series creator Dan Fogelman said, per TV Line. Sterling K. Brown also told TVLine earlier this summer that the coming episodes would include "an excavation of Randall's past, connected to family again," and Chrissy Metz previewed that viewers would learn why Kate started using food as a coping mechanism "because she's been through some things that we don't know yet."
Last week, Ron Cephas Jones — who plays William on the show — won his second Emmy for his role.
This Is Us isn't the only show to incorporate the pandemic into its new season. Grey's Anatomy announced earlier this summer that it would be a key element to its upcoming 17th season, with the staff at Shepard Sloan Memorial tackling it head-on as frontline responders.
While it could be argued that we've all had enough of the pandemic, thank you very much, and could genuinely benefit from a creative, mental break from it, if any two shows can handle it in a compelling, valuable way, it's This Is Us and Grey's Anatomy.
In lighter, brighter news, Rebecca Pearson herself (Mandy Moore) announced her very first pregnancy yesterday with some absolutely adorable baby bump photos.
https://www.instagram.com/p/CFh5kwLg8ja/?utm_source=ig_embed
She and her husband, musician Taylor Goldsmith, announced they are having a baby boy (Goldsmith wrote a song about it — SO SWEET). "Baby Boy Goldsmith coming early 2021," Moore and Goldsmith captioned matching Instagram posts on September 24, 2020.
We cannot wait to see Moore's growing bump (with The Big Three and her real-life bump, of course) and the rest of the Pearsons on our TV screens next month.