'This Is Us' Showed Just How Terrifying An Anxiety Attack Can Be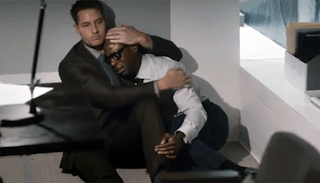 Image via NBC
So many people are relating to "This Is Us" this week
In last week's episode of This Is Us, something was clearly wrong with Sterling K. Brown. His hands were shaking. He just seemed distracted. This week via flashbacks, we learned that Randall has been suffering from panic attacks since he was a child.
A scene from this week's episode between Randall and his brother Kevin, played by Justin Hartley, is being shared wildly because so many people have dealt with the terrifying experience of a panic or anxiety attack. If you've ever had one, you know they are incredibly hard to put into words. But watching Randall suffer through one is a visual example of what many of us feel from time to time.
Dread. Fear. Panic. When an attack comes on, it can be inexplicable. Anxiety is a mental health disorder, but the symptoms are so physically real that they can feel debilitating.
Here is the scene:
People are tweeting thank-you's to NBC for attempting to show what it's like to live with anxiety.
Anxiety disorders are the most common mental illness in the U.S., according to the Anxiety and Depression Association of America. They are highly treatable, yet only about one-third of those suffering receive treatment. Women are twice as likely to be affected as men.
Think you may have anxiety disorder? Need help? The Anxiety and Depression Association of America has resources for you.
This article was originally published on