Widespread Protests For Gun Violence Prevention Are What An Uprising Looks Like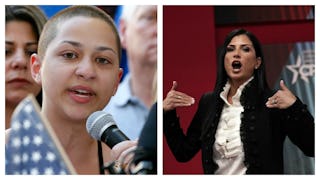 Rhona Wise / Getty Alex Wong / Getty
As NRA-backed lawmakers try to recycle their oft-used "thoughts and prayers" line after the mass school shooting in Parkland, Florida, students like Emma Gonzalez are railing against their inaction and deceit: "Politicians who sit in their gilded House and Senate seats funded by the NRA telling us nothing could have been done to prevent this, we call BS. They say tougher guns laws do not decrease gun violence. We call BS. They say a good guy with a gun stops a bad guy with a gun. We call BS."
A groundswell of Americans who have heard the pleas of Parkland students like Emma are rising up and taking action to prevent gun violence. For the last five years, Moms Demand Action — the grassroots arm of Everytown for Gun Safety — has been organizing on this issue, and we've already made huge progress. But our efforts can never be enough until, finally, this gun violence crisis ends.
And as someone who has served as a volunteer in this movement since the shooting at Sandy Hook School, I can say that this moment feels different. So many new voices are speaking out. In a little over a week, more than 115,000 people reached out to Moms Demand Action wanting to volunteer — including at least 8,000 students, who will become the first Students Demand Action volunteers. More than 70,000 people have made donations. And nearly 1.2 million people signed up to learn about the gun violence prevention movement.
Across the country, the energy is palpable. Just last week, nearly 2,000 Moms Demand Action volunteers and gun violence survivors showed up for an advocacy day in Georgia. In Raleigh, North Carolina, more than 350 people showed up for a new member meeting. More than 200 people showed up for a new member meeting in Fayetteville, Arkansas. And in Rhode Island, we had to have a new member meeting every day of the week in a different city just to accommodate all of our new volunteers.
This is happening everywhere — red and blue states alike. To respond to the influx of new interest, Moms Demand Action volunteers are even holding impromptu meetings in their living rooms and coffee shops. At a meeting in a restaurant in Arlington, Virginia, last week, more than 200 people showed up and stood along the walls when they ran out of chairs.
And we're already turning that energy into action. In Florida, just days after the mass school shooting in Parkland, Moms Demand Action volunteers drove more than 2,500 calls and 1,700 emails to members of the Florida legislature in a single day. Their voices helped to shut down a bill to put guns in K-12 schools in Florida. We also helped kill bad gun bills in Iowa, New Hampshire, South Dakota and Utah since the Parkland tragedy — NRA-supported bills that would have endangered our children and communities.
We're also helping to pass good bills and change corporate policies. The same week as the shooting in Parkland, Oregon Moms Demand Action volunteers helped to pass legislation to close the state's "boyfriend loophole" to help disarm domestic abusers. And in just the past few days, more than a dozen businesses have cut ties with the NRA, following a public outcry from their customers.
Make no mistake: Gun violence prevention advocates are mobilized, energized and the momentum is on our side. From state houses to boardrooms, we are winning.
Americans finally seem to be making gun violence prevention a priority. Mass shootings are a small percentage of gun violence in America, but the scale of these tragedies holds a unique grip on the nation's conscience. It's critical that we remember — and act in honor of — the countless other lives impacted by gun violence that don't make headlines every day.
Ninety-six Americans are shot and killed and hundreds more are wounded each day in America. It's never been acceptable, and now, the tipping point is here. We know we don't have to live like this, and we don't want to die like this. We are refusing to accept the status of quo of guns everywhere, for anyone, no questions asked. We will no longer be subjected to the recklessness, cowardice and inaction of lawmakers beholden to the gun lobby.
This isn't a matter of political persuasion, it's a matter of life and death. Lawmakers have been put on notice by the American people: They can work with us to save lives, or we, the voters, will work to throw them out.
Listen to this special interview with Diane Rinaldo for how to join the movement on the Scary Mommy Speaks podcast.
This article was originally published on