This Is What Infertility Cannot Take Away
by Michele Lovetri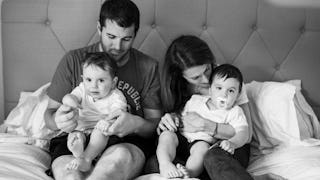 Donna Cheung Photography
As my babies (who are not so much babies anymore) are approaching two, I found myself going through all of my ultrasound photos from my pregnancy. I began reflecting on the struggles we went through to even get our infertility treatments covered by insurance and how incredibly hard our doctor fought for us, to the emotional goodbye when we transitioned from our fertility doctor, to the multiple rounds of IVF that we endured, to the emotional rollercoaster that is infertility.
We talk so much about the struggles of infertility, the feelings of excitement coupled with the feelings of hopelessness. The feelings of adrenaline because of what you're about to embark on coupled with the feelings of despair. I remember the day I received the call with the results from our first round of IVF and the nurse saying, "Michele, I'm so sorry, but unfortunately your blood test does not show any sign of pregnancy."
I was at work and broke down. I lost it and was inconsolable. I felt embarrassed, defeated, and like I let my husband down. I left work abruptly and so did my husband and when he came home, he found me in a ball on our bed in our bedroom sobbing. I remember telling him repeatedly, "I'm so sorry. I'm sorry I let you down. I'm sorry I cannot give you a child."
I was exhausted. I was hormonal. I was defeated. I was done. We decided to take two months off and I have to say it was one of the best decisions we made. We took mini-trips, we drank, we lived it up and (oddly enough) those two months seemed to hold more meaning than the previous months. Maybe it was because we weren't under the pressure of the IVF clock, maybe we both realized we had so much to let go of, maybe it was because we needed to celebrate our strength.
As I think about this time, and all I/we have been through along the turbulent infertility road, I am suddenly reminded of what infertility cannot take.
(This is the photo of the only viable embryo from our first round of IVF. This embryo was transferred, but did not implant. I have been told by a psychic that a little girl watches over me and follows me around, so I like to believe this is her baby picture.)
Infertility cannot take away your ability to love — yourself, your partner and especially a child. We are all here to love and be loved in return. We all need love in our lives to feel whole. Infertility can make you feel numb inside, numb to your core, but it cannot take away the literal ache in your heart that you feel when you care so deeply about someone that it hurts. When you become a parent — however that happens for you — you do realize the ability to love was there all the time.
It cannot take away your character. We are all incredible human beings, and we all have a story, and it cannot take away yours. You are a beautiful being full of life and promise. It cannot take away your ability to be distinct in this world and this world needs more "yous" around.
It cannot take away your courage and determination. Certainly it may feel as if it does, I get it. For many of us, we have endured multiple rounds of infertility treatments and been brought to the point of wanting to give up and accept our fate. But we kept going. Our will for that child somehow remained unwaivered and we just kept going. It does not take away the courage that resides in us and the determination to keep pressing on.
It cannot take away your ability to see the good in this world and in your world. In fact, it suddenly brings into focus what you do have and all you have to be thankful for. You begin to take stock in all of your blessings and one of those blessings is waking up in the morning with a new chance at this thing called life and suddenly "making it count" takes on a whole new meaning.
It cannot take away your ability to enjoy the relationships around you. You need these extraordinary souls just as much as they need you. They are your people. The ones that see you through the difficult times and will do whatever it takes to make your heart smile. You also come to realize that there is another gigantic group of people who know exactly what you're going through because they too are traveling the same road. These relationships form your foundation without a doubt.
It cannot take away your soul. It cannot rob you of your true spirit. The ability to keep believing keeps your soul and spirit alive. Not giving up hope keeps your soul and spirit alive. You are not broken. You never were and never will be. You are a fighter and if nothing in this world has made you recognize that, this journey will.
It cannot take away your power. Let me repeat this one. It cannot take away your power. You are strong, you are resilient, and you are not inadequate. You are not inadequate. You have stood up to this, faced it head on, and continue to keep moving forward, through the tears, and through the heartache, but you continue to push forward. You are the definition of a hero.
It cannot take away your story. You were meant for this. You were put here because you are strong enough to withstand this. Believe it or not, infertility has helped shape you mentally, emotionally, physically, and spiritually. Life may not always unfold as we would like it to, but know that this is just another chapter in the unbelievable story of you.