This Is Why Everyone Is Deleting Their Uber Accounts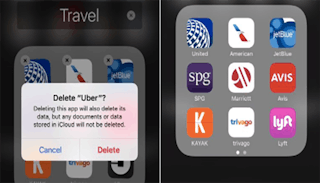 Image via Twitter
Popular ride-sharing service in hot water
You may be seeing a lot of posts on your Facebook feed right now about friends trying to delete their Uber accounts and having some difficulties. There are so many people making a mass exodus from the popular app, the company is having a hard time executing all the cancellations. Why? #DeleteUber is trending right now, as users of the popular ride service stand in solidarity with protests of Donald Trump's immigration ban.
The New York Taxi Worker's Association called for a temporary work stoppage at JFK International Airport on Saturday to show their support for the immigrants, refugees, and green-card holders unable to enter the United States.
Uber drivers effectively acted as strikebreakers, as they not only continued to pick up rides during that time, but actually advertised lower prices.
Immediately, #deleteuber began trending on Twitter.
It may be no coincidence that Uber CEO Travis Kalanick is involved with the Trump Administration. He's serving as part of the president's business advisory group, which was, reports The New York Times, announced in December as "a strategic and policy forum" relating to government policy and job creation. It also includes the heads of Disney, Wal-Mart, IBM, and Tesla. Kalanick is opposed to the ban, and he says he'll bring up his concerns at a panel meeting on Friday. Uber also claims the company did not mean to break the strike.
Kalanick explained his participation in Trump's panel by saying he joined out of a conviction that "by speaking up and engaging we can make a difference." In an email sent to Uber drivers – and posted to Facebook – he condemns the ban and says, "We need your help in supporting drivers who may be impacted by the President's unjust immigration ban."
Uber is allegedly putting its money where its mouth is by offering up to three months compensation for those who can't get back to the US because of the ban. The company has also formed a 3 million dollar legal aid fund to help affected Uber drivers. The money, according to VentureBeat, will be used to help with immigration and translation services.
Meanwhile, Uber competitor Lyft has pledged 1 million dollars to the American Civil Liberties Union to help "defend our constitution," says their letter. They add that, "banning people of a particular faith or creed, race or identity, sexuality or ethnicity, from entering the U.S. is antithetical to both Lyft's and our nation's core values." Facebook comments on Kalanick's letter call for Uber to match or exceed the donation. "Let the actions do the talking!" urge one man.
As of 7 pm last night, #deleteuber was still trending. If you want to join the boycott, you can find directions on how to delete your app here.
This article was originally published on