'This Lamp Has My Childhood In It' - Sweetest Gift Ever Is Going Viral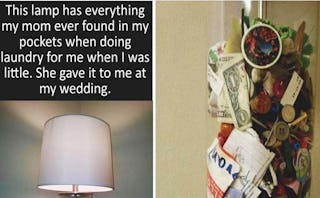 The most thoughtful mom/son wedding gift you've probably ever seen is going viral right now – again. The story first surfaced in 2012 after a man who was just married posted this to Reddit:
"This lamp has everything my mom ever found in my pockets when doing laundry for me when I was little. She gave it to me at my wedding."
A meme of the gift was posted to Facebook last night and has already been shared almost 30,000 times. Are you ready for this? Grab a tissue. The title of the set of images is simply, "This lamp has my childhood in it." Here it is:
How many times have you kicked yourself for not being the type of parent who keeps intricate baby books and records of their kids' childhoods? Time goes by so fast, and sometimes these little things just fall by the wayside. This is a sweet reminder that all it takes is a box and an imagination to some day present your son or daughter with a slice of their childhood.
I had a friend whose mother threw all of her childhood keepsakes into a large plastic box, intending to to one day make a massive baby book out of it. She never got around to it, but she was still able to hand her daughter the box on her 18th birthday. See, no assembly required.
There's nothing special about this lamp — except that it's the most thoughtful gift she could give her kid on one of the biggest days of his life.
This article was originally published on