This Little Girl Running Through A Troop's Homecoming To Hug Her Dad Will Melt Your Heart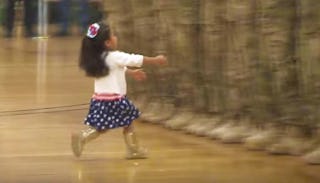 Image via KKTV
If you can get through videos of kids reuniting with military parents after deployment without crying, more power to you. It's hard to come up with anything sweeter than seeing the joy on a child's face when they finally spot their mom or dad after a long separation. However, there's protocol to follow. There's usually a ceremony before servicemen and women are allowed to see their loved ones. Try telling that to an excited little girl who refused to wait another moment to hug her father after eight months apart.
Cara Oglesby was waiting patiently in a crowd of families gathered to welcome 300 soldiers back to Fort Carson after a deployment in Asia. While standing in formation receiving a formal welcome from their commander, little Cara simply couldn't wait any longer to hug her daddy, Lt. Daniel Oglesby. Check out this video and get ready to awww:
Her impatience was understandable. After eight long months of no hugs from her dad, he was finally standing right there. Who can blame her for breaking protocol and running toward him? From KKTV, Lt. Oglesby says, "She was excited. She spotted me from a couple rows back and she couldn't contain herself. I wasn't gonna tell her no." What father would? This is such a sweet moment and I'm sure Lt. Oglesby is so grateful it was caught on video to treasure forever. The crowd applauded their adorable reunion and the welcome ceremony continued on until all of the families were able to see their loved one.
We all give lip service to the military and the sacrifices they make but not many of us truly understand and appreciate what it's like for a family when a parent is deployed for a long period of time. It is difficult for the spouse or partner left behind but above all, it's hard for a child who is without their mom or dad and maybe doesn't completely understand the reason. For a kid like Cara, waiting all those months must have been so tough and seeing her dad so close, yet so far, she couldn't contain herself any longer. I'm so glad no one stopped her from expressing her happiness at having her father back home. There is military protocol and there's also a bond between a parent and child. It's so sweet to see reunions like this knowing how strong that connection truly is.