This Military Dad Left 199 Goodnight Kisses For His Son For Every Night He Was Deployed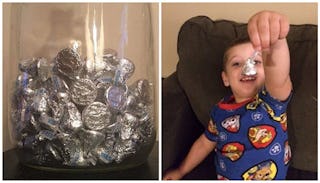 Image via Mary Ellen Dillenburger.
Dad left goodnight kisses in jar for son while he was in Kuwait
Any member of a military family can tell you that it gets tough when a parent is deployed. One dad made his latest stay away from home a little bit better for his young son by leaving special goodnight kisses for him.
Steve Dillenburger and his family filled a jar with 199 Hershey's kisses to represent the time he'd be in Kuwait serving as a major in the Air Force. When his son Sean missed daddy, he could count the kisses. And at night when he missed his dad the most the little boy would pull a goodnight kiss out of the jar.
Mary Ellen Dillenburger told WUSA that no matter where they went, Sean didn't miss a goodnight kiss from dad. The family had trips to South Carolina, Ohio, Delaware, and Maryland during Steve's deployment and Sean brought the jar of kisses with him on every trip.
Military families make a huge sacrifice when parents are deployed. More than 2 million American children have had a parent deployed at least once since 2001. It's crucial to have sweet, calming moments in military families because having a parent deployed is a stressful situation that can cause feelings of sadness and hopelessness.
Look how happy Sean was every night when he retrieved his goodnight kiss. We're sure it helped ease the worry families feel when one of their own is overseas. Plus, it was a great reminder that dad would be home soon. As the number of kisses dwindled and the jar became empty Sean knew dad would be back to give him goodnight kisses.
This article was originally published on