This Mom Is Knitting To Save Babies' Lives
by Team Scary Mommy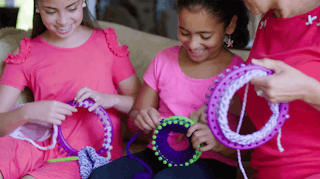 Sometimes the crying is overwhelming. The stress of a fussy newborn combined with exhaustion is a hell like no other. Especially during the first four months, persistent crying can make parents — especially moms — feel inadequate and frustrated. Unfortunately, inconsolable babies can become victims of shaken baby syndrome. It happens in every community, and it needs to stop.
One Scary Mommy is working to help protect babies and support new mothers through the CLICK for Babies Campaign. The program highlights the science behind persistent crying in newborns as a normal phase that will pass in time. Yes, it's a real thing called "The Purple Period," and it's normal! As part of the program, moms across America are knitting purple hats and donating them to maternity wards in every state. The hats are given to new moms as a reminder that the purple period is just a phase and to seek support when they need a break.
Maria Galant and her daughter Isabelle are leading the charge helping their state surpass its goal for purple hats. If you are a knitter and want to support their cause, visit clickforbabies.org for pattern downloads and more information.
Watch Maria's story here.
[ss_featured_video]
This article was originally published on