This Mom's Amazing Ikea Hack Is A Co-Sleeper's Dream Come True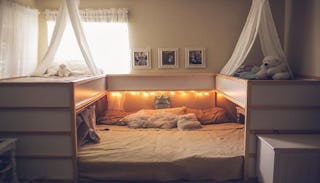 When you hear the term "family bed," it likely conjures images of a big, cozy bed covered in fluffy quilts where loving families slumber together in peace. As anyone who's ever actually shared a bed with their family can tell you, it's nothing like that. Instead, you end up curled in the fetal position in the corner of the mattress while someone kicks you, there are never enough blankets, and yes, that is a butt in your face. If that situation sounds at all familiar, this mom's brilliant Ikea hack might just change your life.
Elizabeth Boyce authors a blog called Wandering The World Below, and she recently shared a photo of her family's bed that takes the co-sleeping game to a whole new level. Through sheer genius and enviable ingenuity, Boyce used pieces from Ikea to craft a bed that comfortably fits her, her husband, and their five youngest children. You have to see it to believe it:
Boyce shared photos of the bed on Facebook and Instagram, where they've amassed thousands of likes. She told SheKnows that she created the bed out of necessity because she was "sick and tired of tripping over kids all night," which apparently resonated with a lot of other moms and dads.
The response to Boyce's bed has been overwhelmingly positive, which is nice since co-sleeping often sparks debates among parents. Co-sleeping is a pretty common practice in other parts of the world, but it's still considered controversial here at home. According to a national sleep survey, only about 13 percent of American parents practice some form of co-sleeping or bed-sharing.
Still, sharing a bed with your kids offers a host of benefits. It promotes breastfeeding and bonding when kids are babies, and according to Dr. Sears, it can also help them feel more comfortable in toddlerhood and beyond. I couldn't get my kids to sleep in my bed if I paid them, but for families who successfully co-sleep and want to keep doing it as long as possible, Boyce's Ikea hack looks like a great solution.
The best thing about Boyce's incredible family bed is that it's an ode to doing what works for you as a parent. Not everyone would put beds together to create a seven-person sleep palace, but she did. She created a totally innovative sleep solution, and she did it based on her family's needs alone. Her ingenuity is admirable and her "whatever works" approach to raising her kids is something we can all appreciate. Plus, any mom who comes up with a way to have fewer bedrooms to clean gets an A-plus in my book.
To build a bed just like Elizabeth's, check out the how-to on her blog.
This article was originally published on