This New Bottle Will Have You Feeding Your Baby Like a BOSS
by Scary Mommy Team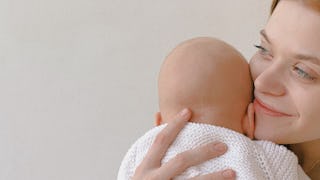 There is no multitasker quite like a new mom. Your hands are literally full with feedings, diapers, spit-up rags, and soiled onesies. Your baby is probably hungry, tired, pooping, or all three at once. Oh, and somehow you're supposed to find time to take a shower? If you heard something, that was every new mom laughing at once.
Hush Little Baby, Pretty Please
When you're low on sleep, energy, and any patience you once had for your well-intentioned partner, a crying baby is the worst…and not just because the sound makes your boobs leak. Turning into a human milk fountain is pretty incredible but not the most fun. And easing your baby into bottle-feeding with breastmilk or formula is a challenge in and of itself. So, finding a way to make feedings easy for everyone involved is truly a lifesaver.
Until we develop the science to make your boobs detachable, investing in the right bottles can make all the difference when it comes to feeding your baby. But what do you look for when finding the perfect bottle? Something that's sturdy and doesn't tip over? Something that's soft and mimics the feeling of breastfeeding? Something that will do your dishes and wash your hair?
This Bottle Has Boss Vibes
Thankfully, you don't have to choose between comfort, convenience, and a bottle that actually works courtesy of the brilliant minds at nanobébé. Whether you use formula or breastmilk, Nanobebe's Flexy Silicone Bottle covers all your feeding needs. It has a stable base that won't tip over (AKA no crying over spilled formula or breastmilk). The bottle's silicone is super squeezable with mom-like softness, making it easy for little hands to hold onto. Plus, the non-collapsible nipple is designed so your baby can keep the perfect latch. In other words, it makes feeding time easier for your partner, too.
The Flexy Bottle even has a triple-vented nipple that helps prevent gas and fussiness. Lemme say that once more for the moms in the back: this bottle will help with your baby's colic. Anything that can cause less tears (from baby or momma) is nothing short of a miracle. And while the Flexy Bottle can't wash your hair for you, it does have easily removable parts and is dishwasher safe. So, cleaning is way easier. Fingers crossed that, one day, science will get there on the hair washing thing.
Mom & Baby Approved
New moms know how frustrating feeding time can be. So, if there's one source you can trust when it comes to bottles that work, it's them. And nanobébé's Flexy Silicone Bottle and their Breastmilk Baby Bottle are both clear favorites. After all, the Flexy Bottle was #1 in Amazon's new baby items and sold out in 3 days. (They're back in stock now, so I'll wait while you go update your shopping cart.)
Is there a bottle that will make every feeding go 100% smoothly? As much as we may hope, not yet. Fortunately, nanobébé's bottles make it easier, making you a little more pumped for feeding time. (Pun fully intended.)
nanobébé is baby care reinvented. Their line of innovative bottles, next-level cleaning essentials, and ultra-functional travel gear makes modern parenting an absolute breeze. Shop nanobébé here.