This Teen Ties Notes To A Bridge To Remind People That They Are Loved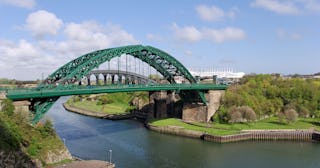 sonny2962/Getty
CW: Suicide
Suicide. Every 11 minutes someone dies by suicide, and yet it's an issue we don't speak about. We talk about the matter sporadically. Rarely. It comes to light in September, when suicide prevention efforts are at their peak. It's also an issue we speak about statistically. We list facts but rarely share the lives, stories, and faces of those affected. But one teen is hoping to change all of that. Not only does she want to shed light on suicide, she wants to save lives, and she is doing so in a simplistic yet meaningful way: Paige Hunter ties notes to the Wearmouth Bridge in Sunderland, England, notes which remind individuals they are important and loved. Their lives matter.
"Even though things are difficult, your life matters," one note read. "You're a shining light in a dark world, so just hold on."
"Some days are just harder than others," another stated. "It does get better."
And one simply said "you are not alone" because it's true. No matter where you are and how bleak things may seem, you do not have to go through this on your own. There is help. There is hope. How would I know? Because I am a two-time suicide survivor, one who lives which regular ideations and suicidal thoughts.
Hunter began the project in 2018. At the time, the 18 year old East Durham College student was given a commendation from the local police.
"We thought it was important to applaud the work Paige has been doing and the help she has given those in Sunderland who are going through a mental health crisis," Chief Supt. Sarah Pitt reportedly said. "Paige has shown an incredible understanding of vulnerable people in need of support, and this is an innovative way to reach out to those in a dark place. For somebody so young, Paige has shown a real maturity and we thought it would only be right to thank her personally. She should be very proud of herself. It is important that we encourage people to speak out and raise awareness of mental health issues and the impact on people's lives."
Hunter proudly accepted the commendation, though — admittedly — she wasn't doing it for an award. "It was just something that I wanted to do," she said, adding "since I put the messages up I've had a lot of comments from people. They've said it's been really inspiring. It's just amazing, the response it has had." And one of those comments was from a survivor. From a mother (like me) who went to that bridge with the intention of taking her life.
"Depression is a hard thing to deal with," the mother — who chose to remain anonymous — told Sunderland News. "I felt so, so alone that I went to Wearmouth bridge. All I needed was somebody to tell me it was going to be ok or for someone (sic) just to say 'when you feel like giving up just remember why you held on for so long' and that was my kids that's why I keep fighting every day to see them grow and Paige Hunter, if it was not for you and what you did my boys would have had no one."
Were it not for a large support network and an excellent therapist and psychiatrist, my children would have no one.
As for Hunter, the idea behind her project was birthed from some frightening information. Within the first six months of 2013, Northumbria Police received 28 reports of people threatening to jump or actually jumping off the bridge. One resulted in death. And that didn't sit right with Hunter. The teen sprung into action.
"I'm going to put it up on the wall," Hunter said. "I just want to help people. I've been told it's already helped save six lives."
Of course, Hunter isn't the only one saving lives. There are numerous ways to prevent suicide — talking about suicide can (and will) reduce the stigma surrounding it. Listening to those who are in pain is particularly important, especially without judgement, shame or blame. Learning (and knowing) the warning signs is helpful. And having open, direct conversations about suicide will make the issue more approachable, and less taboo. It gives those who are suicidal a chance to be seen and heard.
If you or someone you know is having suicidal thoughts, realize you are not hopeless or alone. There is help. Call the National Suicide Prevention Lifeline at 1-800-273-8255 or text the Crisis Text Line at 741-741. Both services are free and available 24 hours a day, seven days a week.
This article was originally published on