This Veteran Needs His Service Dog To Work, So Lowe's Hired Them Both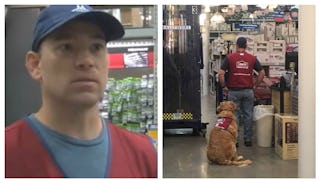 Images via Facebook, YouTube.
Veteran Clay Luthy and his service dog Charlotte both work at a Texas Lowe's
After three deployments and multiple injuries to his knees, Clay Luthy had to retire from the Air Force. He needed a job back at home, but the disabled veteran also needed a position that would allow him to work alongside his service dog Charlotte. Thankfully a local Lowe's had a position for the pair.
"We were interviewing people for his position. And he was one of the applicants. And so he showed up for the interview and he had Charlotte with him," Jay Fellers, manager at Lowe's, told CNN affiliate KRBC. Dressed in their matching vests, Clay and Charlotte now hit the floors of the hardware store in Abilene, Texas and help customers find what they need. They are quite popular with customers as Charlotte is known for her natural friendliness. Customer Judy Dechert Rose shared the picture of them below on her Facebook page. "I love Abilene Lowes, way to go," she wrote. "This is a disabled vet who struggled to get a job because he needs his service dog! Lowes hired them BOTH!!"
While customers love Clay and Charlotte, the retired Air Force veteran is also thrilled to have a job again. He told reporters that he can't stand sitting at home. They've been working part-time at Lowe's for two months.
The pair has been together for 10 years and together they're training another service dog. "Instead of medications, I have Charlotte," Clay explained. Emotional support and service animals are a huge help for people with disabilities, including veterans – many of whom suffer from post-traumatic stress disorder.
PTSD happens after a person has experienced trauma or injury – both of which are common side effects of war. About seven to eight of every 100 people in the United States will experience PTSD at some point in their lives. The number of veterans who come back with it is incredibly hard to track because soldiers aren't encouraged to report it. It's a topic often discussed in our home because my fiancé spent 18 months in Afghanistan when he was in the military. Between 11 and 20% of veterans who served in the wars in Iraq and Afghanistan reported experiencing PTSD.
What we do know is that man's best friend can be a lifesaver for veterans. Bonding with dogs can have biological effects like higher levels of the hormone oxytocin. "Oxytocin improves trust, the ability to interpret facial expressions, the overcoming of paranoia and other pro-social effects—the opposite of PTSD symptoms," Meg Daley Olmert, of Warrior Canine Connection, told the Smithsonian Magazine. It makes absolute sense that Lowe's would allow Clay to bring Charlotte to work. She's well trained and will only help the veteran do his job better. We just hope more American companies will follow their lead and hire more disabled veterans. It's the least we can do for those that have done so much for us.