This Year's White House Easter Egg Roll Is Officially A Disaster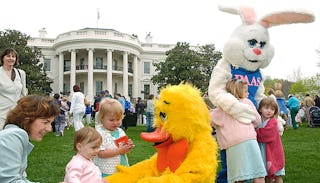 Image via Mike Theiler/ Getty Images
The lineup is just… sad
The White House Easter Egg Roll — a 138-year-old tradition — is just days away. And there has been little to no planning as far as anyone can tell.
"It's the single most high-profile event that takes place at the White House each year, and the White House and the first lady are judged on how well they put it on," Melinda Bates, Bill Clinton's Easter event organizer, told The New York Times.
Last year's lineup included Idina Menzel, the cast of Sesame Street, the cast of ABC's Black-ish, Bear Grylls, Shaquille O'Neal, Shonda Rhimes, Loni Love, Adrienne Bailon and Jeannie Mai from The Real — among many others. There were roughly a dozen celebrity chefs and dozens and dozens of professional athletes. There were about 50 costume characters — including Charlie Brown, Curious George, Kung Fu Panda, Superwhy!, Peppa Pig, The Powerpuff Girls, and the Cat in the Hat.
This year so far we have "a Sesame Street costumed character, and other fun events."
A Sesame Street costumed character. As in — ONE. That's really what the official lineup page says. "Musical artists will perform on the South Lawn music stage throughout the day. Guests include the Martin Family Circus." The most exciting part of this year's lineup announcement is the end of it, when they mention "previous performers."
Yikes.
This is hardly a surprise; the First Lady is traditionally in charge of this event, and since she doesn't live there, maybe it's just "out of sight, out of mind?" We don't even know. Look at this sad tweet:
Wow.
Nothing is as scary as this tweet from the official WH Easter Egg Roll account:
Oh. Yeah. That sounds like a good time.
"Our team has been working very hard to make this year's event a success,"Stephanie Grisham, who started as Mrs. Trump's communications director on Monday, told The New York Times."I am confident that the success of this year's Easter Egg Roll will speak for itself." She's been on the job for two days, unless you missed that part.
"The evidence points to a quickly thrown-together affair that people close to the planning said would probably draw about 20,000 people — substantially smaller than last year's Easter Egg Roll, which drew 37,000 — and be staffed by 200 volunteers, one-fifth of the usual number," writes The New York Times.
Someone better remind them they need a bunny.