Thoughts From A Refugee On World Refugee Day
by Sorayya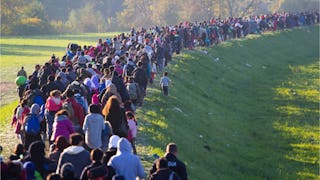 Image via Shutterstock
June 20th is World Refugee Day.
We hear the word "refugee" in the news a lot these days, but many people don't understand who refugees are and what they go through. Refugees and asylum-seekers are both immigrants who seek legal immigrant status due to violence or unsafe conditions in their home country. Refugees undergo the immigration process before entry into the U.S., asylum-seekers do so after entry.
It's important to understand what we mean when we say "refugee," to separate fact from myth, and learn more about the plight of refugees, not just so that we can be better-informed citizens, but so that we can be better humans. We're all in this together, after all.
The following are the words and experiences of a 16-year-old girl from Afghanistan who recently arrived in the U.S.:
As far as I remember, Afghanistan was just pain, war and Afghan people just saw bloodshed. Our identity! I am an Afghan girl… A girl whose eyes are like almonds; who loves Ghabili, Ashak and Boolani; whose bangles make the sound like "jiring jiring"; whose dresses are colorful and who always has Henna on her hands.
Why is our appearance and soul different from the rest? Maybe it's because of people's blood, who went into the coffin innocently. Or maybe that's because of those children who were burned, guilty only of playing. Or children who were running to school when they were killed, or girls who were stoned for the crime of freedom.
We Afghan people, are the lost generation. We are the generation who has to choose between bad and worse.
Sometimes I wonder: why I am an Afghan? Everything is cold in Afghanistan. You easily can feel this coldness which never ends. I whisper quietly in my mind: "Here is my country which is full of battlefields. Its sky has bows and rifles instead of stars…"
Everyone knows refugees had to immigrate and left all their assets, family and land behind for the sake of their safety. I'm a refugee. Many people ask refugees why we immigrated and we answer because of war and security. They might think that refugees are cowards, and wonder why we didn't stay to defend our land and your hometown. They may feel sorry for us.
But when you feel the real war with your heart and soul, when you see blood and dead bodies with your eyes, then you prefer to tolerate these censurable words and think only of saving your children's life. Only people who have immigrated and left their homeland can understand these things.
You may experience a situation when you are in a party, and your child keeps nagging to go home. "Go back home, I miss home," the child will say and then she or he starts crying. Such a feeling…
Young refugees have to think about gaining acceptance, being far from their family in European camps. We don't have the right to make any mistakes.
I have read the news…Nevertheless, I appreciate the governments who embrace refugees and immigrants.
******
If you're interested in helping refugees, you can find information about refugee resettlement agencies in your area here. Regardless of how you choose to get involved — whether you employ a refugee, donate money, mentor, tutor or something else — our role is to empower refugees, lift them up, and be good friends. We are not "saving" anyone. We are fulfilling our obligation as a human to take care of one another.
SaveSave
This article was originally published on