3 Things Your Family Can Learn From a Military Family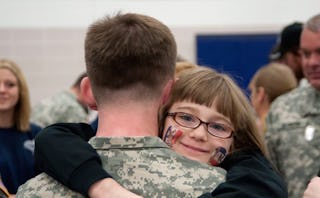 ©Carl Wycoff/Flickr
We all worry a lot about "family time" these days. That's because now, "family time" means pulling everyone away from stuff they'd rather be doing so they can participate in quaint rituals like playing poker with paper cards, Scrabble with actual tiles, and tennis with actual racquets. After a couple of hours of this exhausting togetherness, everyone runs to their respective corners so they can log on to their individual devices.
Enforced family time falls under a category that people in the military call "mandatory fun": The kind of recreation you can't refuse, even if you want to. We all endure such occasions: weddings, work dinners, school talent night. The trouble, of course, is that sometimes it isn't fun at all—and it's often difficult to coordinate and creates more stress than it alleviates. For every family that inaugurates a successful Pizza and Board Games Friday, there's another that struggles to get everyone to eat pizza out of the same box, around the same table, at the same time, once a month.
My husband spent more than two decades on active duty as an Army officer, and our two daughters were born into a life where moves are as common as lost baby teeth. When you don't know whether you'll be staying for one year or three, if your next home will be government quarters or a rental, and your relatives live at least one time zone away, the idea of family itself changes.
Like other professions in which moving—and uncertainty—are a given (academia, clergy, medical doctors), military families learn that giving up on trying to schedule family time can allow us to find it in the more serendipitous rhythms of family life.
Here are three tips every family can implement to make their time together count:
A trip to Ikea is family time.
Your nuclear family truly is your nucleus and a tiny world unto itself. Parents and children should find satisfaction in negotiating new experiences and doing lots of mundane things together. There's no bonding like learning the way to a new pediatrician's office while a kid screams in pain in the backseat—or like finding the unpronounceable table in the labyrinth known as Ikea. You don't have to make things complicated. You're a parent, not an event organizer.
Celebrate the love that's close by.
Don't worry if you can't always make it to your mom and dad's for the holidays. Those far-away relatives may love you a lot, and you them—but, through no fault of their own, they're not going to be there for a lot of school concerts, holiday meals, lonely weekends, and nights when you could really, really use a babysitter. Take the time to get closer to—and learn to rely on—the people nearby (even if that one woman in carpool makes you want to scream with her constant religious chatter). Make your own holiday table consisting of family friends—yours and your children's.
A king-sized family snuggle in a king-sized bed counts too.
On one assignment in Texas, we happened to nab a house with a backyard pool beneath a lovely old live oak tree. The summer Friday nights when my husband didn't have to work past sundown gleam like little jewels in my memory: We'd make a blender full of margaritas, allow the girls to make a picnic supper of juice boxes, cheese sticks, and apple slices, and lounge in the warm water chatting while our little ones splashed and cavorted. Do you have a fabulous great room? The perfect back yard? A giant bed perfect for lazy Sunday mornings? Savor the moments you spend in them together.
Military families, from servicemembers to spouses to children, learn that things won't always be easy, so we should appreciate them when they are. It's a lesson non-military families could use, and of course, that now includes us: My husband retired from active duty several years ago. Our daughters are older and busier. But I look forward to sitting around a pool with them this summer. Of course, I'll have to schedule it…
This article was originally published on