3-Year-Old Dies After Accidentally Shooting Himself With Family Gun
by Madison Vanderberg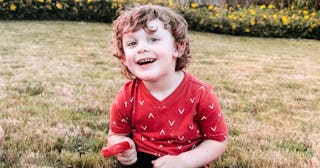 Washington County Sheriff's Office
A 3-year-old boy accessed his family's handgun in a drawer next to the bed
A toddler in Oregon died on Friday, October 10, 2020, after shooting himself with a family gun kept in a bedroom. 3-year-old James Kenneth Linquester from Aloha, Oregon — an unincorporated community in Washington County, Oregon, 11 miles west of downtown Portland — accidentally shot himself in the head when he found a handgun in a bedroom end table drawer.
KOIN 6 reports that James' father, the father's girlfriend, and another child were home at the time, but according to the Washington County Sheriff's Office, James was alone in the bedroom when the gun went off. James was rushed to a nearby hospital but was pronounced dead less than two hours after the incident.
It is unclear at this time who owned the gun and whether it was locked away or secured in the drawer where James found it. The Washington County Sheriff's Office confirmed the news in a press release alongside photos of James submitted by his family.
Tragically, this isn't an isolated incident. Everytown for Gun Safety reports that just in March and April of this year alone, unintentional shootings by children under 17 led to 21 deaths in the U.S. That's approximately ten shooting accidents per month. And on average, 350 children under 17 unintentionally kill or injure themselves or someone else with a gun every year. 77 percent of those incidents happen inside the home.
There is so much we don't know about the situation in Oregon, other than it's heartbreaking and tragic, but institutions like Everytown for Gun Safety advocate for gun reform and share tragic statistics like the above to encourage and educate gun owners on proper gun storage in the hopes it will prevent more statistics like this one.
"Adults can't count on children to 'know better' and not touch firearms," Sarah Burd-Sharps, research director for Everytown for Gun Safety Support Fund, told CBS News in May. "It's always a parent's responsibility to keep guns out of the reach of children and teens."
Additionally, Project Child Safe is a national gun safety and education program based out of the NSSF Firearm Trade Association and they promote "genuine firearm safety through the distribution of safety education messages and free firearm Safety Kits."
"Our industry is seeing record-breaking sales in the midst of the COVID-19 pandemic, with a large percentage of these consumers being first-time gun buyers," Joe Bartozzi, NSSF President and CEO, said in a statement (via CBS News). "We want to be sure these new gun owners have as much information as possible about how to handle, use and store firearms safely and responsibly."
A heartbreaking situation out of Aloha, Oregon. We can only imagine what James' family is going through at this time.