From The Confessional: I'm Game For A Threesome
by Cassandra Stone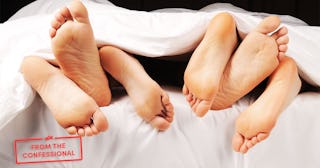 Scary Mommy and 1001nights/Getty
There are plenty of moms looking to spice up their sex lives in our confessional, and a big chunk of them say they're totally up for a threesome
Fantasies run rampant in our confessional, but one popular way many moms are looking to spice up their sex lives is by engaging in a threesome. Some say it's all talk, no action, while others…well others are looking for their third partner right now.
There's absolutely nothing wrong with polyamory if that's what you and your spouse are into and you find a consenting partner. But some moms seem like they're trying to put a band-aid on a gaping wound by looking for another romantic partner to add to the mix.
I'd be be game to try a threesome if DH was, but I won't be the first one to bring up the subject.
Confessional #25831020
Im sounding like a desperate house wife here... but I want a secret lesbian affair. And then later in the future bring my husband in for a threesome.
Confessional #25828484
If SIL were interested, I would like to try a threesome with her and her DH or mine (SIL is not DH's sister).
Confessional #25812282
I was warned by a friend that opening up our sex life to be more kinky could make my husband want it more and more. He pushes all the time now to have threesomes, meet people and I'm getting sick of it.
Confessional #25806112
In-laws in a threesome? Oh my!
I read about that priest who was arrested for having a threesome on his church's altar. Guess what just moved to the top of my fantasy list?
Confessional #25801269
I want a threesome. Just NOT with my boring jealous husband. FFF, MFM, MFF - yes please.
Confessional #25798759
Been fantasizing about being in MFM threesome. Neither of the males is H.
Confessional #25796073
I want to smoke weed and have a threesome with 2 dudes that are not my DH.
Confessional #25782782
Oh snap! Some of these moms want a threesome but they don't want their husband anywhere near it!
We finally went through with planning and setting up an MMF threesome. The most incredible feeling of my life was kissing my husband while another man was cumming inside me.
Confessional #25789945
Thanks to ovulation and Chris Meloni's latest Instagram pic, I dreamt of making out with and fucking him. Sorry Benson! Would absolutely loooove a threesome with Chris and Mariska, hopefully I'll dream about that!
Confessional #25789618
We'd bet our life savings there are PLENTY of people who share the Christopher Meloni/Mariska Hargitay fantasy.
I kept imagining it was another woman and not DH the whole time he was eating my pussy tonight. I want a threesome so bad!
Confessional #25789131
Told DH I would like to try a MFM threesome. He agreed - if we also do a FMF threesome. I know it's hypodcritical of me but, while I fantasize about him and another guy servicing me, I am NOT okay sharing w/another woman and seeing him eat or fuck her.
Confessional #25776133
Talking about threesomes with H yesterday. Maybe I shouldn't have told him that I would prefer to be with 2 men.
Confessional #25776091
The thought of having 2 guys simultaneously touching me in a threesome is intriguing but, since that would most likely mean the second guy's dick is in my mouth or up my ass, it's never going to happen.
Confessional #25772160
Hey, double penetration is a serious commitment! You can't blame her.
How did my date night with DH end in a threesome with a guy from a bar? FML because I never even thought I would enjoy it as much as I did.
Confessional #25766746
Wait, are these couples, like, picking up third partners at Applebees or something?! Where are these threesomes igniting?
My low sex spouse allowed me to join a couple for a threesome, and that's what I'm thankful for!
Confessional #25759474
I feel like fucking my hubby's big-dicked buddy again this weekend. Hubs will be so excited when I suggest the threesome but this is about me getting very well fucked.
Confessional #25072473
I am about to hire a "professional so that DH & I can have a threesome. I hope I'm not too self conscious about my body cuz she's gonna be top of the line!!!"
Confessional #25026992
I would totally do a threesome....but only with men. I'm sure H's idea of a threesome would be him and 2 women. Nope, I want to be pounded in both holes. Having H involved isn't a requirement either.
Confessional #24517914
Love all the MMF threesomes these wives are having. Though things can get a little sticky (no pun intended) when you add another person to your relationship or sex life.
Ahem.
DH and I had a MMF threesome. I made sure to take a picture of him getting blown by the other guy. If he doesn't follow every order I give him, I will send it immediately to all the sexist pigs he works with. Fuck you patriarchy. I win.
Confessional #22944153