'Thrift Flipping' Is A Trend That Gives Old Clothes New Life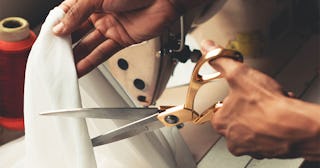 Wallace Chuck/Pexels
We've flipped houses; now it's time to flip clothes. It's called a thrift flip. Green Living defines a thrift flip as "when you take old clothing and accessories and turn it into something new" and says that when you do, "you're actually thrifting, flipping, upcycling, and 'shopping' all at once!" Okay, maybe not the shopping part. I've done a fair bit of this myself, and you have to be pretty zen-like about destroying fabric if you want to succeed. But if you are, you can get some pretty cool stuff out of it.
Why Thrift Flip?
A thrift flip sounds super fun—and it is—but let's get serious for a second. According to Roadrunner: Smarter Recycling, 84% of clothing ends up in incinerators or landfills. Textiles can take up to 200 years to decompose in a landfill. In the last twenty years, the amount of clothing waste has doubled from 7 to 14 million tons because of the demands of "fast fashion."
"Fast fashion," says Pebble Mag, is "mass production of cheap, poor quality, disposable clothing." The fashion industry sells over 60 billion garments a year — "over ten for every person on earth." We buy them because fashion, then ditch then when trends change quickly (remember cold shoulders?).
Where do we ditch them? Well… mostly we donate them, right? reMake says only 10-15% of donated clothes actually end up on the secondhand market, and places like Goodwill and the Salvation Army are overwhelmed. Remember when ThredUP was a little startup company a few years ago? Go look now. I spent a few hours doing screen-matching to TV show costumes this week and found nearly every one.
Basically: America has a used clothing problem, and we need to do something about it. That's where the thrift flip comes in.
So How Do I Do It?
Open closet.
Examine what you'd get rid of, don't wear, would donate anyway. That way, you're not losing out. Be zen-like about it if you ruin it. Would you have kept it anyway? No? Make a damn patchwork duvet cover then. You can buy an old quilt at Goodwill and give it new life. Simplest thrift flip out there, and you're not wasting anything.
Simple Flips:
Make some bags. Cable-knit sweaters can give you a reusable shopping bag with two seams, and T-shirts with none.
In fact, I absolutely LOVE upcycling T-shirts. I have an entire Pinterest board that's nothing but T-shirt upcycling. Here are some of the ones I've tried that have worked out the best:
I wish I had a picture of this one: it turned out really well; it was super-simple, and all I needed was a pair of scissors.
I used to use super long men's shirts from my husband— I'd sew two together so they reached my feet— and I spent a summer living in them.
I'm lazy, so I just made the top and made a thrift flip of the rest of the dress. it's actually super comfortable, and it meant that I didn't have to ditch my beloved shirt just because it got too big for me. Here's some way I thrift flip T-shirts that are too big, too small, or too stained: you can always cut the design off and sew it onto another shirt (which I do all the time when my kids outgrow their fav Spinosaurus shirt) or you can take it in.
It's super-simple to take in a T-shirt that's too big: find one that fits you well to use as a guide. Iron both. Line them up, carefully trace the one that fits, and sew with a zig-zag stitch, giving yourself an eensy seam allowance.
All of my T-shirts are tailored.
If You Want To Get More Complicated…
A thrift flip can be as simple (T-shirt shopping bag!) as you make it. I took a long sweater dress from Goodwill that was stretchy enough to fit me, chopped the arms, and made it strapless. Easy-peasy:
But if you want to get more complicated, you want to visit people like my local buddy Jillian for ideas. Jillian and I went to college together, and she's basically made a career of the art of the thrift flip. She's known as Refashionista, and if you want to level up to Jillian speed, you don't just need to sew. You need to sew elastic; you need to sew buttonholes; you probably want to stop tracing those T-shirts on the floor and invest in one of those dressmaker's people that look like creepy humans when seen through a window from the outside. But Jillian makes things like this:
Okay, easy-ish… she took in the dress, made a sash from the hem, and added decorative stitching…
She claims you don't have to sew to thrift flip this… I'm tempted. Very, very tempted…
Create Your Own Thrift Flip
Check out this thrift flip from Instagram. Cut apart a bodysuit, redo the pockets of your jeans…
https://www.instagram.com/p/CGNvYxyFeOp/?utm_source=ig_web_copy_link
You can always bleach-paint to thrift flip!
Basically, thrift flips are limited only by your imagination. Get out there and give the clothes in your closet new life!
Speaking of, there's a pair of jeans calling my name.
This article was originally published on