How To Throw A Kid's Birthday Party That Parents Will Actually Enjoy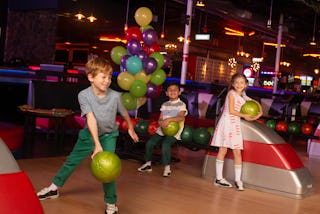 Typically, when we receive a birthday invitation for one of our kids, my husband and I immediately play "rock, paper, scissors" to decide which one of us has to take them.
Not that there's anything wrong with kids' birthday parties. It's just that we're both introverts who would much rather stay home. At kids' parties, all either of us really wants to do is avoid small talk, and hope it's all over as quickly and painlessly as possible.
But what if I told you that kids' birthday parties can be tolerable, even ENJOYABLE, for the whole fam? Here are 7 steps to throwing a birthday party that other parents won't dread:
1. Embrace the Great INDOORS
Having a day at the park or a BBQ is nice, but being outdoors means you're at the mercy of the weather. Whether it's rainy or windy, freezing cold or hotter than a packed sauna in August, you and your guests are stuck toughing it out. It's easier on everyone if the party is indoors, with access to shade and air conditioning. That way everyone can enjoy themselves, rain or shine, without the grass and mud stains.
2. Have Activities That Everyone Can Enjoy
We don't mind chaperoning our kids, but most of us prefer a party space that comes with built in activities everyone can enjoy like bowling. We love the flexibility of being able to join a game and then bowing out to watch from the sidelines. Or, better yet, play laser tag and dust off our arcade skills — which is why we're hardcore stans for a place like Bowlero. The best parties are the ones where the actual kids and the people masquerading as adults have tons of options.
3. Avoid Messy Activities
The idea of painting with the kids is cute but, in reality, we just end up covered in whatever brown paint they've created by mashing all of the colors together. Please spare us with the kids' crafts. Glitter is the gift that keeps on giving because you still find it in your hair months later. Mess-free activities are always preferred. And don't even get me started on paintball. Just no.
4. Create a "Parent Lounge Space"
Have a space that's clearly designated for adults. After all, for more than a few moms this might be their only adult interaction for the entire day. And the last thing you want for your birthday babes are big booties on teeny chairs or, even worse, the misery of standing for hours. Your parent lounge only needs two things: open ears and enough seats so you can hear all the venting that's about to go down.
5. Have Adult-Friendly Drinks Available
While we're talking about a parent lounge, be sure to have coffee available. Some of us need it to survive. It's also nice to have booze available for those of us who feel a little stressed and nervous about socializing. I'm not suggesting an open bar, but access to adult drinks is always a nice perk. And it's good to remind parents that if they're drinking, they can taxi or Uber home as needed.
6. Keep It Simple, Susan
We know you want your kid's big day to feel special. But there's no point in breaking the bank (and/or your patience) for something you'll just have to try to top next year. Pick a venue where they do the work for you, instead. You'll want to look for easy online booking and customizable birthday packages that include all the things you'll need, making for less stuff you'll have to remember. Which is good because recalling all your guests' names is tough enough.
7. Snacks Make Everything Better
Make sure to avoid kid (and adult) meltdowns by having access to snacks. Kid-friendly food is great for picky eaters, and parents like snacks, too. From burgers to wings, and pizza to veggie rolls, pick a place with a menu that's sure to have something for all ages. I've decided whether or not to attend a party based on the food available, so don't underestimate the value of snacks.
The common theme for all of these tips is to create an atmosphere that's welcoming for parents, where they don't need to worry about anything other than making sure everyone is having fun. And if the kids are old enough to drop off, definitely lead with that ⏤ we'd RSVP to that party in a heartbeat.
Bowlero makes birthday parties easy for you and awesome for the kids! Make those birthday wishes come true with customizable party packages that feature unlimited bowling, the latest arcade games, and kid-friendly menus that everyone will love. Book your party now in just minutes—anywhere, anytime—online: Bowlero.com
This article was originally published on