Tia Mowry Shares Postpartum Belly Pic: 'I Thought Something Was Wrong With Me'
by Cassandra Stone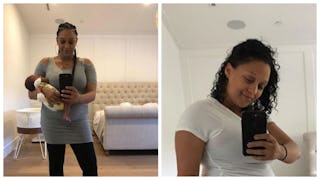 Image via Instagram/Tia Mowry
Tia Mowry gets real about bellies that don't just 'go flat' after having a baby
Those first few weeks and months after giving birth are so difficult for so many reasons — adjusting to your new postpartum body is one of them. Which is exactly why we love Tia Mowry for opening up about her own struggles in her latest Instagram post.
Just seven weeks after delivering her daughter, Mowry shared a sweet selfie and got real about what it's like to accept your new body after baby.
"Some pregnant women after giving birth no longer have a belly after seven weeks, " she writes. "While others it may take a little longer. Me, I'm the latter."
She says after delivering her son Cree, her belly "didn't all of a sudden go flat" and this made her feel like something was wrong with her. Which, girl, if there's something wrong with having a belly less than two months postpartum — then there's something wrong with all of us. Those few, rare women who expel human beings and have flat-as-a-board tummies shortly after are the unicorns of "mom bods" and probably just have freakishly unfair genetics.
"I had seen in magazines the many women on the beach a few weeks postpartum in a two piece," she says. Again, UNICORNS. Though it has to be tough being in Hollywood and surrounded by that very thing. All the time. You know what I mean, it's that "I just lost the weight chasing after my older kids and breastfeeding" kind of stuff that magazines love to put on their covers — when in reality, for most of those women, it's hard AF to get back to being flat and toned so quickly. They just don't say it because we live in a society that loves to shame women. I long for the day where we can all just be okay with however we look as moms.
"To be honest, it had to take time for me to embrace my new body," Mowry admits. "With this second pregnancy, I now have embraced that fact that I've housed a human being. A miracle. A life. If it takes a while for me to get back to my normal self, then so be it. This.Is.Me. And I love me."