The Magical Breastfeeding Weight Loss Fairy Does Not Arrive For Everyone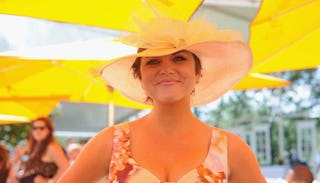 JERSEY CITY, NJ - JUNE 01: Tiffani Thiessen attends the VIP Marquee during the sixth annual Veuve Clicquot Polo Classic on June 1, 2013 in Jersey City. (Photo by Dimitrios Kambouris/Getty Images for Veuve Clicquot)
Tiffani Thiessen isn't stressing about the baby weight
Breastfeeding and weight loss. Apparently, it happens. Not for everyone though, so if you are a new mom wondering when the magical breastfeeding weight loss fairy is going to arrive — unfortunately, the bitch skips over some of us for some unfathomable reason.
If you are a new mom, look forward to months of questions about your "post-baby body." It's a topic that plagues anyone who's had a baby, but being in the limelight just makes it worse. Celebrities are constantly riddled with these questions. If you immediately drop the weight, everyone is going to want to know how you did it, and probably speculate that it's unhealthy. If you don't immediately drop the weight — oh boy, that's even worse. You're damned if you do, damned if you don't.
That's why it's so refreshing to hear a celebrity mom say, I'm not really worried about that right now. Us Weekly talked to Tiffani Amber Thiessen, Beverly Hills 90210 alum and now star of her own cooking show, Dinner at Tiffani's. Of course a question about her body came up, because they always do. Why talk about something actually interesting when you can ask a woman about her weight?
"I haven't dropped all the baby weight, but I'm getting there," Thiessen told Us Weekly. "I try not to stress myself. As long as I eat healthy." Why do we do this to celebrities? Can you imagine being asked about your weight, months after you've had a baby? It's universally bad form. Boundaries, people!
"Here's the thing, I am still nursing," Thiessen told Us. "My No. 1 goal is to make sure that Holt is getting what needs. … Once I stop nursing that is usually when I drop most of the weight." Amen, sister. The whole "breastfeeding melts the fat away" is just not true for a lot of women.
Tons of celebrities preach the breastfeeding weight loss plan. Mila Kunis said, "Breastfeeding's a great workout – let me tell you!" Alyson Hannigan said, "I know it's a cliché, but I was eating just ridiculous amounts of food but still losing weight." When Kristen Cavallari was asked about her trim figure post-baby she said, "I honestly can say I owe it all to breastfeeding. I read somewhere that it's like running six miles a day."
The rest of us are over here thinking, "HUH?"
While breastfeeding seems to be some kind of magical weight loss cure-all for some, it's just not true for everyone. So if you're stressing about the state of your "post-baby body" — take some advice from Thiessen…
don't stress yourself.