Tiffany's 'Everyday Objects' Line Is Here To Confuse You And Make You Feel Poor
by Maria Guido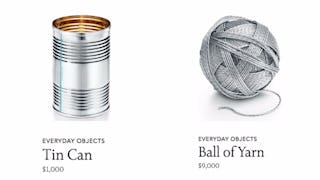 Image via Tiffany & Co.
Tiffany just wants to remind us how poor we all are, nothing to see here
Nothing says "you probably can't afford this" like a blue Tiffany box. This company is not for us — the tediously middle class. Sure, they add little trinkets we can (or can't) afford like a $150 pendant here and there, but the majority of their jewelry is in the thousands — and they like it that way.
Just in case anyone was getting the wrong idea about who their stuff is actually for, the company came out with a line of "everyday objects" for the obscenely rich. Nothing says, "I'm so rich, I could literally set a bunch of money on fire" like a $1,000 tin can. Yes, that exists.
"Tiffany & Co. announces the debut of its luxury Home & Accessories Collection. Born out of the notion that beautiful things should not be limited to special occasions, the new collection is Tiffany's take on modern life where creativity and wit collide with the finest materials," a press release reads. Yeah! You don't need a special occasion to throw your money away, rich people! Buy this fucking tin can because you can! Just because you can! Mwahhahahahaha.
"I think what makes the collection unique is that it incorporates the best quality, craftsmanship and design with a level of functionality that allows you to use these things every day," says Reed Krakoff, chief artistic officer at Tiffany & Co.
Of course. We all need a $1,000 tin can every day.
There is also a $9,000 ball of yarn, because nothing says "functional" like a sterling silver yarn sculpture. I thought for sure the company was joking about this, so I added it to my cart.
"NEED IT SOONER?" the site asks. Why yes, I need it right fucking now. No way can I wait for my $9k ball of non-yarn. I sent messages to the press contact, but my IP address must have triggered the "poor" alert — so no one messaged me back.
The "Everyday Objects" line includes a bunch more super expensive shit that super rich people can buy for each other and just laugh and laugh. Like this $10,000 bird's nest.
"Did you see that homeless guy feeding the pigeons in Washington Park? He wasn't wearing shoes! By the way, I just bought a $10,000 bird's nest for funsies. I don't know what I'm going to do with it! What a dumb question. This money isn't going to spend itself!"
The press release contains a number of "still life" photographs that will make you want to tear your own face off.
"Still life of sterling silver pencil sharpener, bookends, ball of yarn, paper cup, coffee can in sterling silver, paper plate, tin can, protractor, AM/PM pillbox, first aid box, Tiffany box, Diamond Point corkscrew and bottle opener, sterling silver tape measure, hotel key ring, paper clip, USB key ring, marker, triangle, ruler, yo-yo, Tread Plate money clip, crazy straw, safety pin key ring, whistle key ring, and magnifying paperweight set in sterling silver with crystal glass and Tiffany Blue® enamel accent."
This is the ACTUAL CAPTION on the site under this photo. No YOU shut up! I'm not kidding! All the things in this "still life" are for sale on the site. Buying this set of sterling silver crap would run you roughly $20k.
Oh! And look at this!
This is a $750 black marker. I'd like to point out that markers aren't as functional as pens, so some thought really went into making this as obnoxious as possible.
"How about adding a $750 pen to the line?"
"No. There are expensive pens everywhere. We are Tiffany & Co. Make it a Sharpie."
"A $750 Sharpie? People don't really carry those aro—"
"JUST DO IT."
Here's a set of 10 sterling silver legos for $1500– okay, I'm done. Fuck you, Tiffany & Co.
This article was originally published on