'Tiger King 2' Leads Pack Of Upcoming Netflix True Crime Docs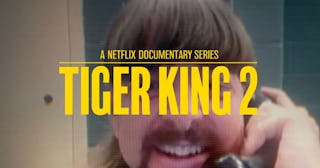 Netflix/Youtube
Get ready for more Tiger King
Hey, all you cool cats and kittens, guess what's coming to Netflix soon? The true-crime doc that got literally tens of millions of people through the first weeks of lockdown is getting a second installment, and the streamer says Tiger King 2 will hit the service by the end of this year.
Netflix says the original Tiger King doc was a bonafide global hit, drawing 64 million viewers in the first four weeks alone after its March 2020 release. Giving a glimpse into the world of big cat breeding and the eccentric (to put it mildly) characters involved with it, the show immediately became a massive sensation — even if you've never seen an episode, chances are you still spent weeks scrolling past Tiger King memes on social media last year.
It's kind of easy to see why — the show basically had it all. A murder plot, a missing husband, a throuple, an iconic mullet… what more could you really ask for? "Season 2 promises just as much mayhem and madness as Season 1!" Netflix Tweeted, so viewers are likely in for another wild ride.
The series' producers began teasing the possibility of more episodes almost as soon as the initial ones aired. "There's a lot that's still unfolding in it, and it'll be just as dramatic and just as colorful as what has unfolded these past few years," Rebecca Chaiklin told EW last year. There's no specific date for the premiere of season 2 yet, but we do know that it's coming in 2021 — so fans won't have to wait too much longer.
If Tiger King gave you a taste for true-crime docs, Netflix is also rolling out four others over the next few months that sound just as bonkers. In January, the company will release The Puppet Master: Hunting the Ultimate Conman. The doc tells the story of a conman "convicted in 2005 for stealing fortunes and destroying multiple lives," but whose crimes are still echoing in the present day — and of course, there promises to be lots of twists and turns.
In February, Netflix will drop The Tinder Swindler, and the title alone lets you know this one's going to be juicy. It's the story of a "prolific conman who posed as a billionaire playboy on Tinder, and the women who set out to bring him down." Yes, please!
Elsewhere in 2022, we'll also get Trust No One: The Hunt for the Crypto King, and maybe I'll finally understand what cryptocurrency is after watching it (probably not, though).
Lastly, 2022 will also bring us Bad Vegan, with this very confusing/intriguing description: "Celebrity restaurateur Sarma Melngailis becomes the "Vegan Fugitive" when she's conned out of millions by a man who convinces her that he can expand her food empire and make her beloved pit bull immortal — as long as she never questions his increasingly bizarre requests."
Netflix is promoting itself as "The Home of True Crime" in promos for the new docs, and with a packed upcoming slate like that, they've certainly earned the title.