Kate McKinnon Will Play Carole Baskin In A 'Tiger King' Limited Series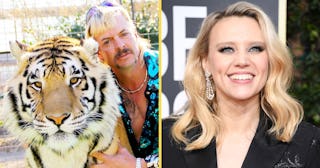 Netflix and Daniele Venturelli/Getty
Kate McKinnon will star in a limited series based on the podcast "Joe Exotic"
If your brain has only operated in two modes recently — either coronavirus panic or Netflix's absurdly delightful docuseries Tiger King — then we have great news to continue distracting you during this time of global pandemic. There's a Tiger King limited series in the works and it will star Kate McKinnon as the probably-husband-murdering big cat enthusiast Carole Baskin.
Because every now and then, we can have nice things.
If you're like me, you started watching Tiger King a few days ago while social distancing and didn't stop until it was all over. It has something for everyone: a gay, polygamous, redneck-y zookeeper with a weird grudge, mullets galore, a murder plot, country music, big cats, politics, probable actual murder (RIP, Carole's husband), and so so much more. That's why it brings me nothing but joy knowing that we're about to get another dose of this incredibly strange world.
So the details at this point are sparse, but according to TVLine, we do know that McKinnon will play Baskin and will also step into the role of executive producer for the series. It's been in the works for a bit as it's based on the Joe Exotic podcast, which debuted last year. Renewed fervor in the podcast due to the Netflix show's runaway success has led to Wondery, the podcast's producer, rereleasing it.
And can we possibly think of a better actress to play Carole Baskin? Like, have you seen Kate McKinnon completely immerse herself in her SNL characters? I am literally giddy thinking about it.
It's like the entertainment world stared directly into our panicked souls and is feeding us exactly what we need during these trying and uncertain times.
And if you haven't seen the absolute masterpiece that is Netflix's version, you need to drop whatever you are doing and start it immediately. You will have to block out a good 6-7 hours of your life, but I promise you it's worth every WTF-filled minute. There's a lot going on, but the main plot involves Joe Exotic (aka, Joe Screibvogel, aka, Joseph Maldonado-Passage, aka, the Tiger King himself) who runs Greater Wynnewood Exotic Animal Park in Wynnewood, Oklahoma. Carole Baskin is a fellow big cat enthusiast who is rumored to have murdered her husband — she's also Joe's biggest rival. He ends up in prison for allegedly trying to hire someone to kill Baskin, and this is literally only one of several entirely unbelievable plot twists.
So buckle up and take it all in before McKinnon's series is here for us to obsess over. It's the best possible use of your quarantine time.