Don't Freak Out But There Might Be A New Episode Of 'Tiger King'
by Madison Vanderberg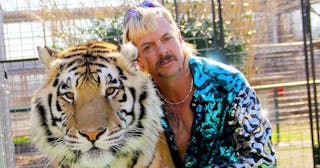 Netlfix
Jeff Lowe says Netflix is dropping a new episode of Tiger King next week
As the world retreated indoors and baked panic bread to deal with our very real worries about the coronavirus pandemic, Netflix did everyone a solid and released a wacky little docuseries about big cat weirdos called Tiger King: Murder, Mayhem and Madness. The seven-episode series became an instant hit and since then, we've been left with more questions than answers. But according to the show's villain (well, one of them ) Jeff Lowe, Netflix is dropping a new episode next week.
First of all, if you haven't seen Tiger King, where do I even start? The show follows the exploits of a very colorful zoo owner and "Big Cat" enthusiast named Joseph Maldonado-Passage aka "Joe Exotic," who is now serving a 22-year prison sentence for attempting to hire a hit man to take out his nemesis and fellow big cat lover Carole Baskin, though the court of popular opinion says that Joe was set-up by Lowe. Anywhoo, Joe Exotic is a real…multifaceted human, to put it mildly. He loves the spotlight, loves his big cats, has recorded many country albums, ran for governor of Oklahoma, but also like, he wanted to kill a lady and preys on vulnerable 19-year-old boys with meth addictions. You know, just some real 2020 Shakespeare-stuff up in here.
Now that that's sorted, what's up with this new episode rumor? Lowe — who bought Joe Exotic's G.W. Zoo and continues to operate it to this day — said in a Cameo video meant for Tiger King fan and Los Angeles Dogers player Justin Turner, that he and his wife Lauren are filming something with Netflix tomorrow that is supposedly dropping next week.
"Netflix is adding one more episode. It will be on next week. We're filming here tomorrow," Lowe said in the video posted on April 4, 2020.
Netflix has not commented on the rumors, but we're inclined to believe it as the streaming giant did interview Joe Exotic from prison on March 22, just two days after the show was released to runaway success.
The short clip that Netflix shared online makes us think they interviewed the fallen star to include in a larger interview with the cast — a sort of "Where are they now?" Plus, since the show was released, Florida police have reopened the case of Baskin's missing husband, because yes, the woman that Exotic allegedly tried to have killed is also rumored to have murdered her own husband! This! Show! Does! Not! Quit!
Will Netflix address any of these new developments? Will they drop the new episode at all? Was Lowe lying to us? Regardless, we'll be refreshing that Netflix browser like our life depends on it all next week.