An English Teacher Is Posting TikToks From Quarantine In Wuhan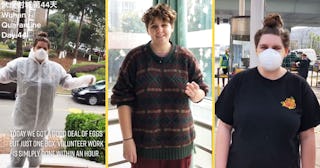 prostage/TikTok
This is what day-to-day life looks like in Wuhan, under coronavirus quarantine
As the coronavirus continues its deadly global spread, it can be difficult to separate real news from all the misinformation that's out there, especially when it comes to the situation in other countries where people are quarantined or on lockdown to help slow the virus's spread. In Wuhan, China, the epicenter of the virus, many people are still living inside a strict quarantine zone.
That includes Megan Monroe, a 21-year-old American English teacher who has been quarantined in Wuhan for over a month now. Megan has been sharing videos on TikTok, hoping to give people around the world an accurate view of what life is actually like living in the quarantine zone. The videos are sometimes surprisingly normal, sometimes a little haunting, and always fascinating in the glimpse the provide into what life is like for people in the region most affected by coronavirus.
Megan started documenting the quarantine in Wuhan about three weeks into it, and now posts several videos each week. Most of them are actually very normal, and you can hardly tell they're coming from a place where people have been on lockdown for nearly two months.
Megan shares a lot about Wuhan's weather, their teaching, and even just cooking meals at home.
One of the more interesting things Megan has documented from Wuhan is the process of buying groceries during the quarantine. People have to order their groceries in advance, then pick them up at pre-scheduled times, usually one-by-one to avoid too much contact between people.
It's also fascinating to see Megan's videos of people out in public in Wuhan. Many of them wear masks and full protective clothing to avoid exposure to the virus.
Megan's TikTok account, which they film with the help of their supervisor, has amassed nearly 40,000 followers so far. It's easy to see why, as it's a truly fascinating look into what life is like in Wuhan.
"I mostly just want people to know it's not scary," Megan told Buzzfeed. "I'm a real person and I'm living here and I'm just continuing on with my life."