Doctors Explore Possible Link Between Tics In Teen Girls And TikTok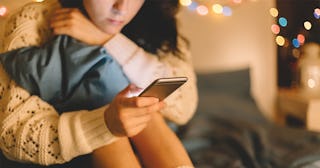 martin-dm/Getty
Doctors are wondering if there's a connection between an increase in tics in teen girls and their use of the app TikTok
Doctors around the country say they've noticed a strange trend since the beginning of the pandemic: an influx of new teen patients (mostly teen girls) reporting symptoms of Tourette syndrome. The condition is characterized by tics, twitches, or uncontrollable vocalizations, and according to the Wall Street Journal, the increase in cases might have a common link: TikTok, the wildly popular social media app where users can find thousands upon thousands of Tourette-related videos.
Much of the evidence of this phenomenon is anecdotal at this point, but what doctors have said about is striking. One Cincinnati neurologist told the WSJ that pre-pandemic, he'd see just one teen patient per month about Tourette's. Lately, it's been about 10 a month. Texas Children's Hospital says it's seen about 60 new cases since March 2020, whereas normally they'd get just one or two cases per year.
Somewhere along the way, doctors began to notice that many of the new patients shared one oddly specific tic: shouting the words "beans" in a British accent. Even patients who didn't speak English were doing it. Dr. Caroline Olvera, a fellow at Rush University Medical Center, began investigating — starting with scrolling through TikTok.
It didn't take long for her to discover that a top TikTok influencer just happens to have that same "beans" tic. Olvera combed through thousands of videos and eventually found out that many of the biggest influencers identifying themselves as having Tourette's said they'd developed new tics after seeing them in other videos. If you've ever spent any time scrolling through TikTok, you know that the app's powerful algorithm can offer users a seemingly endless supply of similar content once you've liked or interacted with a particular type of video.
Most of the teens showing up with Tourette syndrome symptoms had something else in common besides TikTok accounts, however: previous diagnoses for anxiety and depression (which, as the Journal notes, were intensified by the pandemic for so many people). Doctors say those pre-existing issues might be more of a factor than TikTok, but still — the company said it's aware of the issue and looking into. "The safety and well-being of our community is our priority, and we're consulting with industry experts to better understand this specific experience," a TikTok spokesperson told the paper.
None of this means parents needed boot their teen girls from TikTok, of course — but doctors say checking in with your kids about the content they view online, and how much time they spend viewing it, is always a good idea. Browsing through videos on TikTok can be fun and relaxing — but it can also be too much of a good thing for some.