Tilly Ramsay Shuts Down Gross Old Man Who Called Her 'Chubby'
by Valerie Williams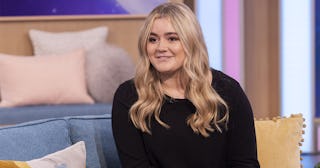 Ken McKay/ITV/Shutterstock
Gordon Ramsay's daughter Tilly was on the receiving end of an incredibly mean comment by some jerk radio host and she's clapping back
Celebrities are just like us except for when radio hosts decide it's ok to comment on the bodies on their teen children, I guess? At least that's the case for this horrifying tale about celebrity chef Gordon Ramsay's 19-year-old daughter Tilly. Some gross old dude decided to call her "chubby" and if anyone else would like to put their hair in a messy bun and hop into my minivan, we ride at midnight. Because absolutely not with this nonsense.
Ramsay took to Instagram to address a cruel comment made by LBC radio host Steve Allen.
Ramsay is currently participating in Strictly Come Dancing, which sounds a lot like Dancing With the Stars. In her post, Tilly acknowledges that being part of the show means folks are going to talk about her — but she makes clear that comments on her body are simply not acceptable.
"I try not to read and listen to comments and negativity however recently being called out on a national radio station by a 67-year-old man is a step too far. Steve please feel free voice your opinions however I draw the line at commenting on my appearance," she says in her post. "It's such a shame that someone is trying to make such a positive experience negative."
It sure is, but gross old guys are gonna gross old guy, so as Tilly says, it "definitely won't be the last comment made about my appearance."
"But please remember that words can hurt and at the end of the day I am only 19 and I'm so grateful for all the amazing opportunities I have been able to take part in and I understand that being in the public eye obviously comes with it's own repercussions and I've been aware of this from a young age," she writes.
"However, I won't tolerate people that think it's okay to publicly comment and scrutinise anyone's weight and appearance."
Um, neither will we, Tilly. This is, simply put, disgusting. It's also harmful commentary for teen girls in particular, who are susceptible to messaging about their bodies. The research shared by Facebook whistleblower Frances Haugen highlights that fact. Haugen exposed internal studies proving that Instagram makes thoughts of suicide worse for 13.5 percent of teen girls and 17 percent of teen girls say Instagram makes eating disorders worse.
So imagine what an actual pointed (and public) insult about weight could do?
Ideally, a teen girl wouldn't have to pipe up in her own defense when faced with cruel commentary about her body made by some idiot, but we're proud of Tilly for speaking out. Steve, sit down. Literally no one wants to hear it.