TIME's Latest Cover Sketches Dr. Christine Blasey Ford Using Her Own Words
by Valerie Williams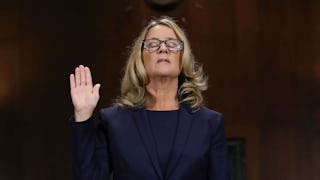 Image via Win McNamee/Getty Images
The powerful cover features words from Dr. Christine Blasey Ford's testimony
Today, senators are viewing the report from an F.B.I. investigation into accusations of sexual assault against Supreme Court nominee Brett Kavanaugh made by Dr. Christine Blasey Ford. The California psychology professor says the judge attacked her at a party when the two were in high school. Whether Kavanaugh is confirmed or not, Ford's testimony was a striking moment in history, and TIME commemorated it on their latest issue.
TIME's newest cover features an artistic rendering of Ford that pays homage to the powerful and iconic image of her, taken as she swore to tell the truth during her testimony.
It was created by artist John Mavroudis and incorporates a number of phrases from Ford's story, as she told it to a room full of Senators on September 27th.
The original photo of Ford, eyes gently closed, face tilted upward, as she promised to be honest while telling the entire world about one of the worst nights of her life, went viral. It's easy to see why — it's beyond powerful.
"I am here today not because I want to be," Ford said at the beginning of her testimony. "I am terrified."
She then spent the next four hours telling a story that obviously still traumatizes her to this day — 36 years later. She calmly and patiently answered every question she could — and was honest about the ones she could not. When asked how certain she was of Kavanaugh being her attacker, her reply was instant and confident. "One hundred percent," she said.
In the essay for TIME, Haley Sweetland Edwards writes, "History often seems inexorable in hindsight, shaped by powerful figures operating beyond our control. But when Dr. Christine Blasey Ford walked in to face the Senate Judiciary Committee on Sept. 27, raised her right hand and swore to tell the truth, it was clear that an unassuming psychology professor and mother of two was about to change the course of current events in real time."
TIME featured Ford for that very reason — that she could be any of us, and her choice to speak out was monumental. Instead of staying quiet about what happened to her, which was her right if she chose, she decided to tell her story, and at what we've come to learn was a great personal cost.
Ford reportedly moved out of her home due to death threats. She's been openly mocked by the president himself during a rally where hundreds cheered him on. Her story has been attacked and called into question, picked apart, dismissed by many as being made up solely to ruin Kavanaugh's chances at being confirmed. She's been sharply criticized for not coming forward sooner, for not having enough details, and for having the audacity to try to "ruin" a powerful white man's life to begin with.
Nevertheless, she persisted.
TIME is featuring this moving image and Ford's story because of its power and what it means for our society and how we treat those who tell their stories of being violated. Edwards writes, "Her treatment in the halls of power, and her reception by an expectant public, would send a signal to countless survivors wrestling with whether they should speak up."
Whether Kavanaugh is confirmed or not, Edwards points out that Ford's testimony is now a warning that no man, regardless of his wealth, fame, or position, is able to skate when it comes to credible accusations of sexual assault. To victims, she's given courage to speak out, no matter how long ago the attack happened. And no matter who the attacker was.