by Sasha Gray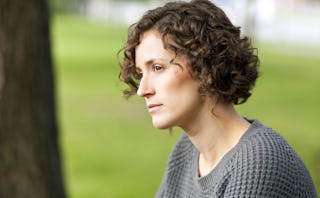 When will I stop counting the days, weeks and months since she died?
I sat at my daughter's dance class, glassy-eyed, oblivious to the stares from the teacher who normally sits at the desk I'd chosen and unable to realize I am in her spot. As I looked at the clock, I flashed back to standing bedside in Mama's hospice room, willing her to let go of the shell that I had stood beside for 10 days. I first lost my mother when dementia took her mind, but the clock told me it was exactly one week ago to the moment she took her final breath and I lost her all over again—when the dementia took her soul and body.
Two weeks and four days later, we were having dinner, finally able to get my dad to join us for pizza—a family favorite. We asked for a table for five, forgetting there are only four of us now. "Jean would have liked that salad," my dad said as I sat down. Reminders of her were everywhere, but time marched on, not stopping or even slowing down for the people hungry for dinner, and life.
One month and two days later, we met to celebrate my dad's 84th birthday, his first one without my mama in over 60 years. As the family gathered at the Chinese buffet, the mood was still somber, but smiles were plastered on the faces of children who giggled without the grief so apparent in all of us.
One month and nine days later, when I was in Baltimore for a conference, I picked up the phone to call and tell Mama about my room and my dinner. Only, my dad answered, and it took me by surprise for a moment before I collected myself—switching gears to tell him about the rental car and traffic along the way.
Two months and 12 days later, my daughter and I were at a birthday party where kids were laughing and running around. The birthday girl had her grandparents beside her as she blew out the candles, and my girl stood a little closer to me, snuck her small arms around my neck and whispered, "I miss Nana."
Three months after the loss of my mother, I still cry at a memory, smile at photographs and miss her terribly. Friends have stopped asking how we're doing, already reassured by the "I'm fine" responses they've received each time they've asked before. We finally finished the wheelchair ramp Mama would have needed as her ability to walk was taken from her. Now it's there to support my dad, in his grief and for his broken body, which leans on either side as he wavers with each step. His gait slowed, his shoulders more hunched and his eyes hollow. A 60-year love affair ended, before he was ready to let it go.
Thanksgiving and Christmas will be our next hurdle, as we struggle to mask our emotions, celebrating the holidays with family and friends near and far. Some we will see for the first time since she's been gone and that unsettling moment will come, when we again we realize things will never be the same.
When will I stop counting the days, weeks and months since my mother died?
This article was originally published on