Time Names 'The Silence Breakers' As Person Of The Year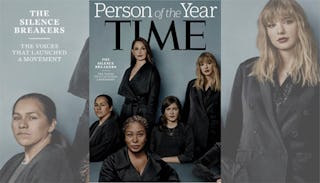 Image via TIME Magazine
TIME's "Silence Breakers" started a movement the world couldn't possibly ignore
The annual TIME magazine Person of the Year has been announced, and not only is it people and not person, it's a whole movement.
The iconic publication is calling the group of women on the cover "The Silence Breakers" for the work they've done in outing powerful men and starting a chain reaction of victims sharing their stories in the name of stopping this kind of abuse in the first place.
TIME's editor-in-chief Edward Felsenthal revealed the choice on the TODAY show this morning along with the cover, which features actress Ashley Judd, singer Taylor Swift, Uber engineer Susan Fowler, lobbyist Adama Iwu, strawberry picker Isabel Pascual, and a woman cut off with her face not visible.
It could be said that she represents every silenced voice.
Felsenthal said in a statement, "The galvanizing actions of the women on our cover … along with those of hundreds of others, and of many men as well, have unleashed one of the highest-velocity shifts in our culture since the 1960s."
TIME's feature article tells the stories of not just famous actresses, but everyday people, both women and men, who have been harassed or abused by men in power. The piece describes the meeting between some of them and shows how this isn't just about the victims of men like Harvey Weinstein — it's about every victim.
"Judd, every bit the movie star in towering heels, leaned in to shake hands with Isabel Pascual, a woman from Mexico who works picking strawberries and asked to use a pseudonym to protect her family. Beside her, Susan Fowler, a former Uber engineer, eight months pregnant, spoke softly with Adama Iwu, a corporate lobbyist in Sacramento. A young hospital worker who had flown in from Texas completed the circle. She too is a victim of sexual harassment but was there anonymously, she said, as an act of solidarity to represent all those who could not speak out."
The seemingly unending torrent of accusations by women and men that men in power had sexually harassed or assaulted them was kicked off in force with the myriad allegations against Weinstein. As the list of people sharing their stories about his abuse grew, more started speaking out about other famous men who took advantage of their position and forced themselves on women and men, who were often too afraid or ashamed to speak out.
Now, the list of accused men includes actor Kevin Spacey, comedian Louis CK, journalists Matt Lauer and Charlie Rose, and Senator Al Franken — among countless others. The silence was broken and the flood began with the hashtag #metoo, a mantra began years ago by Tarana Burke, taking over social media. So many women and men shared their stories of mistreatment at the hands of the powerful and connected, and the abusers began to fall like dominos. Thanks to the bravery of those who spoke out, they're continuing to fall.
The Person of the Year title isn't always given for such noble reasons — last year's cover featured Donald Trump, solely for the way he changed American politics forever, not for any particular achievement. But the 2017 cover choice is a nod to a movement full of women and men that are acting as a force for good — and for change. In fact, Trump, this year's runner-up, is named in TIME's piece as a "precipitating factor" for the #metoo movement taking hold in the first place.
Felsenthal says, "The idea that influential, inspirational individuals shape the world could not be more apt this year. For giving voice to open secrets, for moving whisper networks onto social networks, for pushing us all to stop accepting the unacceptable, The Silence Breakers are the 2017 Person of the Year."
This article was originally published on