Time's Latest Cover Will Slay You
by Christina Marfice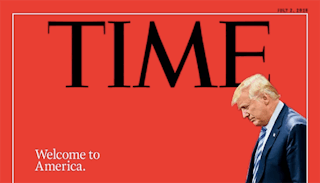 Image via TIME
Time magazine releases a cover showing the heartbreaking reality of child separation at the border
Donald Trump may have announced the end to his breathtakingly cruel child separation policy yesterday. But while he claims no more children will be ripped from their parents at the U.S. border moving forward, there will be no recourse for the thousands of families already torn apart. The policy has drawn criticism from all over the world. Now TIME magazine is releasing a heartbreaking cover that takes aim at Trump and this policy.
The new cover features an iconic photo captured by Getty Images Pulitzer Prize-winning photograhper John Moore. It shows a little girl sobbing while her mother is taken away to be searched. Time created a photo illustration that shows the little girl crying, while Trump looks down with a dispassionate look on his face. The text reads simply, "Welcome to America."
The cover is gut wrenching, but only because it's so real. Trump made this policy. Children are being essentially kidnapped. And the separation from their parents is traumatic enough to be likened to torture.
And you just know Trump will see that cover and love it, because it makes him look big and tall. Ugh.
The photographer who snapped the now-iconic shot of the little Honduran girl told Time about the scene. It was one of the most heartbreaking he's seen in years of photographing the border, he said. "It's a very different scene now," he said, comparing his experiences photographing families at the border now and before Trump's new policy. "I'm almost positive these families last week had no idea they'd be separated from their children."
"This one was tough for me. As soon as it was over, they were put into a van. I had to stop and take deep breaths," he continued. "All I wanted to do was pick her up. But I couldn't." The editors of Time recognized the power behind the image and decided to use it in their latest cover.
The policy that resulted in kids and their parents being separated at the border was enacted by Trump, whose administration then went back and forth between blaming it on Democrats and denying it existed. After more than 2,000 families were ripped apart, Trump signed an executive order ending the policy on Wednesday. There is no plan to reunite kids and parents who have already been separated.