Having Time Away With My Friends Helps Me To Remember Who I Was Before I Became 'Mom'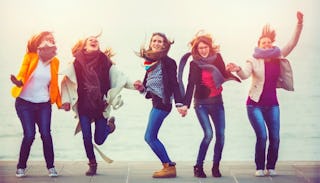 gremlin / iStock
Last weekend, fueled by cheap alcoholic punch, bad nachos, and something magical called Insomnia Cookies (unrelated: Where have these been all my life?), I found myself singing and dancing like no one was watching, with 100-plus of my nearest and dearest friends.
This happens every five years, when my friends and I descend en masse on our alma mater and celebrate a big anniversary (this one was No. 35) of our cherished a cappella singing group. And go ahead, laugh all you want about the dorkiness of a cappella singing. For me, it continues to be one of the most important things I've done in my life.
From ages 4 to 22, singing was practically all I did. I deliberately chose a university whose singing group culture rivaled its Greek life. My singing friends from college, even those who live across the country, will always be among the closest and most important friends I have. There is a particular type of bond that is formed when you and 17 friends spend many weeks traveling the country together in a crammed 15-passenger van.
Last weekend, we all picked up right where we left off, even though we left off 15 years ago, before any of us had children or real jobs. We reminisced, we ate, we drank, we sang. Oh yes, we sang. The weekend culminated in a huge reunion concert, after which we said our goodbyes and headed back home on planes, trains, and automobiles to resume our real adult lives.
I wish I could say that when I returned home, I felt refreshed and ready to tackle the next parenting challenge that came my way (which was, by the way, helping my son find "Morton," a random Lego guy who wears a helmet and mans the skies off of Prison Island). I wish I could say that I happily threw myself back into my regular life, shaking my head at my college antics and thinking about how grateful I am that I will never again have to share a bathroom with 17 other people.
But honestly, when I got home I just felt sort of sad. And I still feel sad. For three short days, I had reconnected with an important part of myself, a part that has all but disappeared since I became a mother. Now I'm back to being just "Mom." The only singing I am doing is of the lullaby and shower variety. And it's not just the singing I miss — it's the intense friendships, the deep, late-night conversations, the random fits of laughter. I can't say my mom friends and I have the opportunity to bond like this while we're waiting in the kindergarten drop-off line.
Putting my cognitive-behavioral psychologist hat on, here's what I want to say to myself: You can reconnect to that part of you! Just start singing again! But for me, at this particular moment in my life, the singing thing just doesn't seem feasible. I can't drop everything to perform a last-minute gig. If I stay up all night laughing and talking with 17 of my closest friends, I will pay for it dearly, when my sons wake up singing (yep, they do it too) at 6 a.m. Sure, I'd like to do community theater, but rehearsals are held after work hours, the only time I have to be with my kids during the day.
I know I'm not alone in mourning for my old self. All of us parents have to sacrifice some parts of ourselves when we start raising children. We simply cannot be the people we once were. It's not just that we don't have the time to devote to pursuits we used to enjoy. We also don't have the energy. At least, I don't. Were I to start singing again (tried it at the reunion, sounded like a dying animal), I would have to practice on a regular basis. When would I do this? After work and after my kids are in bed? By that point in the night, my eyes are usually burning from fatigue.
For now, at least, singing can't be on my priority list. And truthfully, I resent the fact that I have to de-prioritize something I love. But I also recognize that you can love being a parent and still mourn all that you feel you've lost in the process. I am so, so sad about the fact that I do not sing anymore. And yet I am so, so happy with the two beautiful children who greet me, singing, every morning at 6 a.m.
And who knows? Five years from now my kids will be 10 and 7. Then, maybe, I can start auditioning for community theater. Maybe I can form a band with some dude who lives down the street. Maybe I can even try to cajole some other moms into starting an a cappella group. Doesn't the Mom-tones have a nice ring to it?
Northern New Jersey, consider yourself warned.
This article was originally published on