A Man Proposed In Times Square – And Then Dropped The Ring In A Subway Grate
by Thea Glassman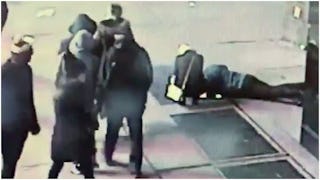 Image via NYPD/Twitter
The man who proposes probably didn't think this through — luckily NYC police are saving the day
It was supposed to be the most romantic of moments. In a viral video circulating on Twitter, a man proposes to a woman in Times Square. Good news: she said yes. Bad news: the ring promptly slipped into a subway grate. The two weren't able to fish it out and ended up having to walk away.
Now, the New York police department is getting involved.
RELATED: 20 Engagement Gifts That Stand Apart From Bridal, Bachelorette, Or Bachelor Presents
Are you alone in wondering why someone would propose on a subway grate? No, no you're not. Should this story become the basis of some sort of romcom/thriller? Yes, yes it should.
The NYPD released video footage of the whole bling dropping incident (which will cause you all kinds of sympathy pangs) and put out a message that they had managed to retrieve the ring.
"WANTED for dropping his fiancée's ring in @TimesSquareNYC! She said Yes – but he was so excited that he dropped the ring in a grate," the police department tweeted. "Our @NYPDSpecialops officers rescued it & would like to return it to the happy couple. Help us find them?"
They also included a picture of the ring and…ummm…here's hoping that this couple gets their hands back on this very, very nice piece of jewelry real soon.
The NYPD's tweet pulled in a whopping 11,000 retweets and the internet had lots and lots of jokes. There were the puns…
And a whole lot of sassiness from people who just didn't quite understand the location choice of his proposal.
https://twitter.com/jetpack/status/1068988793372516352
Some big ideas for the future.
https://twitter.com/jetpack/status/1069041484312338432
Then there were the people who saw the romance in it all.
This isn't the first story about a couple losing their engagement ring (though perhaps the only one that will ever involve a subway grate). Last year, 84-year-old Mary Grams made the news when she found her ring that she had lost thirteen years prior. It turned up in a carrot that the family pulled from their garden for dinner.
The world continues to be a very, very wild place.
All fingers crossed that our subway couple is identified quickly. This will be a great story to tell during their wedding vows.
This article was originally published on