Powerful Hollywood Women Unveil A Plan To Fight Sexual Harassment Everywhere
by Megan Zander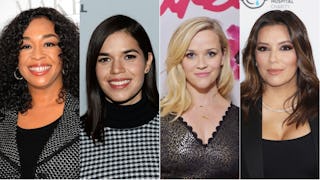 Image via Desiree Navarro/Amanda Edwards/Stefanie Keenan/Tim P. Whitby/Getty Images
Over 300 women in Hollywood sign powerful new anti-harassment initiative to protect women workers in all fields
There's a lot we'd love to forget about last year, but one good thing that 2017 gave us was how women banded together to stand up to sexual harassment in the workplace. What started with the public outing of Harvey Weinstein's abusive actions has only grown in momentum. Now, women in Hollywood have decided the time has come to think even bigger in terms of equality and protection in the workplace.
Over 300 mega successful actresses, female directors, agents, producers, writers, and executives have signed an anti-harassment initiative called Time's Up, which launched New Year's Day, 2018. Lead by attorney Anita Hill, (who testified during Justice Clarence Thomas' confirmation hearings about sexual harassment she suffered while working with him), a letter announcing Time's Up and its plan ran as a full-page ad in The New York Times, and in La Opinion, a Spanish newspaper.
The letter was signed by Reese Witherspoon, Shonda Rhimes, Eva Longoria, America Ferrera, Cara Delevingne, Natalie Portman, Rashida Jones, Emma Stone, Kerry Washington, and Uma Thurman to name a few. It states in part, "Now, unlike ever before, our access to the media and to important decision makers has the potential of leading to real accountability and consequences. We want all survivors of sexual harassment everywhere to be heard, to be believed, and to know that accountability is possibly."
As satisfying/shocking as it is to see the headlines calling sexual harassers in Hollywood out by name, the truth is that #MeToo applies to women in all fields. Time's Up recognizes that, and one of its main goals is to do something about it. As part of the initiative, a Legal Defense Fund, administered by the National Women's Law Center's Legal Network for Gender Equity, has been established. The fund is being overseen by former Michelle Obama Chief of Staff Tina Tchen and will pair female and male victims of sexual harassment, abuse, or assault in the workplace while in pursuit of their careers with attorneys to provide subsidized legal assistance. Thanks in part to the A-list celebs involved in founding the fund, it's received over $13 million in donations so far, but if you're looking to help, they're currently accepting donations.
https://www.instagram.com/p/BdaxrzfDALM/?hl=en&taken-by=americaferrera
The website also has tons of other resources for those who have been the victim of workplace sexual harassment. And these cheat sheets for how to spot sexual harassment and what to do if you're sexually harassed at work should be required reading for everyone who has a job.
Because women know how to get shit done, Time's Up is leaderless and run by volunteers. It's organized into different groups, each with its own purpose. The Commission on Sexual Harassment and Advancing Equality in the Workplace, led by attorney Anita Hill is working to "lead the entertainment industry toward alignment in achieving safer, fairer, more equitable and accountable workplaces, particularly for women and marginalized people."
Another group's goal is to make sure the voices of the LGBTQ community are not lost in this conversation.
Another group, 50/50 by 2020 is working on getting entertainment companies to agree to gender parity within their leadership within two years. Thanks to Shonda Rhimes, the group has already gotten Chris Silbermann, a managing director at ICM Partners, to promise that the company would meet that goal. "We just reached this conclusion in our heads that, damn it, everything is possible," Rhimes told the New York Times. "Why shouldn't it be?"
Much like the pink pussy hats from last January when women stormed D.C. and cites worldwide, Time's Up is again using clothing as a way to make a powerful statement. They're asking men and women alike to wear black to the Golden Globes this Sunday as a way to raise awareness for the legal fund, the initiative, and the message it stands for. "For years, we've sold these awards shows as women, with our gowns and colors and our beautiful faces and our glamour," Eva Longoria told The New York Times. "This time the industry can't expect us to go up and twirl around. That's not what this moment is about."
"We have been siloed off from each other," Reese Witherspoon said to The New York Times of the movement. "We're finally hearing each other, and seeing each other, and now locking arms in solidarity with each other, and in solidarity for every woman who doesn't feel seen, to be finally heard."
This article was originally published on