Women Everywhere Are Saying #TimesUp, But What Are We Doing To Help Foster Children?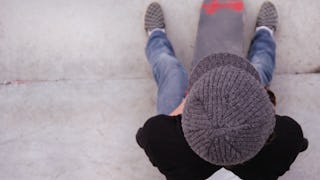 Tammy Fullum / Getty
There's this little thing that's been eating away at the corner of my conscience for weeks, maybe months now.
More than a week after Oprah reignited #TimesUp, months after Alyssa Milano reignited #MeToo, I find myself thinking of Tarana Burke's initial intent behind Me Too more than a decade ago. She wanted to support young women of color who'd survived sexual violence. She wanted to protect them and give them voice.
And I wonder, twelve years later, if time is really up when it comes to those most vulnerable?
Foster children are 10 times more likely to be sexually abused than children who live with both biological parents, according to a 2010 report to Congress. Congress has known for nearly a decade the severity of the sexual abused problem in our foster care system, and yet children are still abused at unacceptable rates.
Another smaller study of girls in foster care found 81% of them had been sexually abused, 68% by more than one individual.
Our own Choice Network champion, Buneka, has incredible memory of her past, but when it comes to sexual abuse, she blanks. She states that she remembers some abuse but has traumatically displaced sexual abuse memories from earlier than age 8. Though trauma may have hid memories deep, stories of her foster siblings facing abuse are clear. Ten times more likely to experience abuse does not surprise her. And she also knows the time is still real for kids in this moment in the system today.
I appreciate these women who have a platform using it to speak out to benefit all women. And many of us can find a connection with their stories. We think of that time waiting tables, getting groped and grabbed. Or being leered at during a meeting, being asked what we're willing to do to succeed. It becomes strange sense of kinship among women who've been harassed in the workplace.
But few of us can truly connect with the lives of foster children. We don't understand, and confronting the reality of a broken system that punishes poor families and places children at risk? It's hard and unpleasant and many people just don't want to do it.
And I fear that means these children's stories will continue to be untold, unshared.
While women gain traction and support and – hopefully – justice through movements like Times Up and Me Too, we have to ask, what platforms do we have to also help those most vulnerable? Individual states are looking at protecting children through tools like the Child Victims Act in New York and it's a start, but it's a far cry from a solution for all girls.
Hashtags and state-by-state legislation may not be enough, but they're a start to a much needed conversation within a conversation.
And so is learning the facts. So instead of turning away from the painful stories of sexual abuse in our foster care system, learn the facts and use your privilege and platform to give voice to those who are still silent.