Tina Fey & Amy Poehler Are Golden Globes Hosts For The First Time Since 2015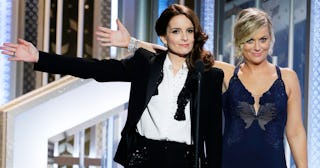 Paul Drinkwater/NBCUniversal/Getty
Tina Fey and Amy Poehler will host the Golden Globes later this month in a socially distant telecast
The Golden Globes are moving full-steam ahead, pandemic be damned, and like other awards shows held in the last nine months — there have had to be many changes. No audiences and Zoom'd in acceptance speeches are the norm these days and for this year's Golden Globe Awards, the ceremony will be hosted by BFF hosting duo Tina Fey and Amy Poehler (yay!)…but from separate coasts.
Variety reports that due to social distancing precautions, Fey will host her portion from the Rainbow Room atop Rockefeller Center in New York City, where she lives, and Poehler will host from the Beverly Hilton Hotel in California, where the Globes' are usually held — and although the bicoastal hosting bit might interfere with the ladies' natural chemistry, we'll take it. Now is not the time for Ricky Gervais to make dark jokes about our reality, now is the time for Fey and Poehler to make plucky and witty observations about Schitt's Creek and remind us of the before-times when people went to parties and put on makeup.
Fey and Poehler last hosted the show together in 2013, 2014, and 2015 and though they vowed to stop hosting the show together, they agreed last January to return to Globes' stage once more. It was the Fey and Poehler awards shows of yesteryear that gave us such gems, like the extremely petty Taylor "there's a special place in hell" Swift feud.
Not much else is known about the awards show. Will nominees even be on the premises or will they attend via Zoom like they did for The Emmy Awards? Last month Poehler talked to Seth Meyers about the upcoming awards show and jokingly admitted she does not know how the show is going to work. "We just have a few final questions which is, When? How? Why? Where? … that's all we need to find out but we're gonna figure it out," Poehler joked.
What we do know aside from Fey and Poehler is that Spike Lee's children, Satchel and Jackson, have been named as this year's Golden Globe Ambassadors (they're the people who hand the awards to the famous people). Also, the iconic Jane Fonda will receive the Cecil B. DeMille Lifetime Award for her "outstanding contributions to the world of entertainment."
The Golden Globes are set to air live on February 28, 2021 at 5 p.m. PT/8 p.m. ET on NBC and if nothing else, it's an excuse to make a bunch of appetizers and watch a thing on TV if the Super Bowl isn't really your idea of a live-television-event vibe.
This article was originally published on