Tinder Strangers Keep Up Hilarious Text Convo For 3 Years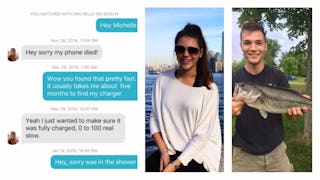 Image via Twitter/Facebook
They've been texting for three long years without ever meeting
There's #friendgoals and #couplegoals, but what about #humorgoals? That's what a pair of strangers who met on Tinder achieved with their hilarious 3-year text exchange. And after all this time, it's totally paying off.
Twenty-two-year-old Josh Avsec was matched with 21-year-old Michelle Arendas on Tinder in 2014. He liked what he saw and decided to send her a message. Then waited. And waited. And waited some more (as one does) for her to respond.
He'd moved on (we hope) and then one day out of the blue, Arendas finally responded — two months later. "Hey sorry my phone died!" she wrote. Not wanting to be outflanked, Avsec decided to give her a taste of her own medicine. He waited another two months before writing her back with his own hilarious message. "Hey sorry was in the shower," he wrote back. Obviously, Arendas did what any upstanding woman would do and waited another month to reply with, "Hey just saw this message. Sorry I was in class."
Because, you can never seem too interested, right? No seriously, is that right? I'm married with three kids and have no clue how this shit works anymore.
Avsec and Arendas went back and forth like this for three years, at times going more than ten months without replying to the other because they both have more willpower than a toddler at bedtime. And get this, the two Ohio Kent State University seniors never met once during their entire exchange.
Avsec recently decided to share a screenshot of their messages on Twitter and the internet couldn't handle it any longer – including Tinder themselves. The business jumped in to offer to send the pair on vacation together. "It's time you got together IRL," they tweeted. "You have 24 hrs to decide the city you want to have your first date in and we'll send you there!" The couple, not to be outdone by a free vacation offer, landed on Hawaii, as one does when traveling with a complete stranger whom you've never met.
Alas, finally Avsec emailed Michelle his digits and told Buzzfeed News the two have been texting each other. "I only found out her last name 24 hours ago," he joked.
Now everyone on the planet is rooting these two adorable people on:
https://twitter.com/jetpack/status/883835535629971460
The internet has spoken — you guys need to get married and have ten babies and live happily ever after. Just please don't wait 10 months to call her, Josh.
This article was originally published on