This Austin No-Kill Shelter Is Building Tiny Homes For Their Rescue Pups
by Julie Scagell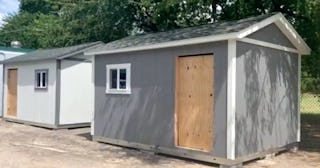 CBS Austin
The goal is to help the dogs feel more at home while waiting for adoption
Animal shelters do amazing work but one no-kill organization called Austin Pets Alive! is going above and beyond to make sure their pups feel at home until they find their forever home by building them tiny houses — complete with heat and A/C.
The shelter is swapping out kennels for tiny homes which gives adoptable dogs and staff a workspace to train and build relationships with the dogs. "The idea," they wrote on their Facebook page, "is to provide more of a home-like environment for the dogs, for decompression, training, and quality-of-life purposes." The shelter builds programs like these for "key groups of animals that are typically euthanized in a shelter setting," to help them survive.
"These cottages will double as comfortable and quiet housing for the most in-need dogs and workspaces for staff and volunteers," they wrote. "The cottages will each have their own yard and be outfitted with dog-friendly seating and work spaces, as well as heat and a/c. The goal is that the dogs assigned to these cottages will move in permanently until we are able to find a foster or adoptive home for them — no more kennel life for these lucky pups!"
No-kill shelters are critical to protecting at-risk animals. According to the ASPCA, approximately 1.5 million shelter animals are euthanized (670,000 dogs and 860,000 cats) each year, which is down from 2.6 million in 2011 thanks to the efforts of shelters like this and the "adopt don't shop" campaigns highlighting all the animals who need loving homes.
Austin Pets Alive! is doing their part to impact these numbers. According to their Facebook page, the nonprofit organization is dedicated to "helping to keep Austin no kill. Since 2008, APA! has saved over 80,000 dogs and cats from being killed at Central Texas shelters."
The organization said they are still putting the finishing touches on the tiny homes but are hopeful the pups will be able to move into their new pads next month. "We are still in the process of completing these but we're expecting our first pups will move in by October. We are very excited about this project!" they wrote.
Shelters rely on donations and volunteers to remain in business. Many offer their homes to foster animals while they wait to be adopted but for programs like the ones Austin Pets Alive! is doing for at-risk animals, money is what they need the most. If you have the ability to support the shelter financially, you can do so here.
These are some very lucky dogs, indeed.
This article was originally published on