Tips For At-Home Learning From A Homeschooling Parent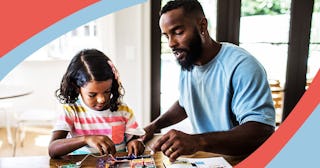 Scary Mommy and MoMo Productions/Getty
You remember that giant red DON'T PANIC button in Hitchhiker's Guide to the Galaxy? Slam it like you mean it, friend. Because you're now parent, teacher, employee and you're on the front lines of your kid's education for the first time, and you don't know WTF to do. Do not panic. You've got this, friend. You've been your kid's most important teacher since day one. Say that: I have always been the most important teacher since my kid was born.
I've been homeschooling three children since forever, and I'm here to help.
Let's tackle, first, why you're scared.
We Have to Do What The District Says
School districts everywhere have had to make arrangements for at-home education very quickly and very unexpectedly, and many are not set up for distance learning. These are unprecedented times we're living in, and there are bigger things to focus on than whether every single child is following district curriculum to the letter. Your job right now is to help them (a) make the minimum and (b) keep them enriched.
BUT HOW THE F*CK DO I DO THAT?!
They are crawling up your butt and you can't even get alone time on the toilet. Take a deep breath. Drink a cup of coffee. Find some time to be alone (even if that means drinking your coffee at 5 am in an Adirondack chair bundled up and watching the night owls). Your kids went from a highly structured environment to total freedom. They need to do what we in the homeschooling community call "decompress" or "de-school." That means that for two weeks to a month, do not push. Do not expect much. Let them play, give them a vacay with the bare minimum of work, let them get used to their new normal. Your kid's education has gone from desks to couches, from sitting still to constant breaks. That's cool. But it takes getting used to.
After the Decompression: Your Kid's Education
This is the best part of your kid's education. What are your kids' interests? What sparks their passion, their love? What puts the light in their eyes? USE IT. I have one kid obsessed with mythology. I've got one obsessed with amphibians. We use those as a lens through which to do learning. Like aliens? Go on the MUFON website and use your map skills to track UFO sightings nearby, and write about them. That counts as social studies (map interpretation) and writing. Research native amphibian species, go into the yard and catch some, and do a presentation for the family using construction paper models and live animals. That counts as reading and writing and science. You might have to force math, but Khan Academy is free and amazing; IXL is great and costs a small fee (that's what we use). Monopoly is math. So is Dungeons and Dragons, and you can play online (with supervision). You likely do not realize the amount of learning that happens in your everyday lives.
Also, encourage your kids to keep a journal about their feelings. They will value it in the future. You will too.
Flex Your Schedule Based on Your Kids, But Get it Done
You need a loose schedule, and you need to keep it normal-ish. But if they're immersed in a book (and my kids' own personal reading counts as school reading, as long as they tell me about it and occasionally write summaries), I don't bother them. If they're playing hard, let them. Sometimes we do school in the morning. Sometimes we do school in the afternoon. But we do school every day, careful to take breaks twice a week, which do not have to be consecutive nor do they have to be on Saturday and Sunday.
If everyone's chill, we start at 10:30 and end … whenever it ends. You do not need to teach for 6 hours straight. We usually take two hours, because in a classroom of 20+ kids with varying needs, our amazing teachers spend a ton of their time giving directions, re-directing, answering questions, lining kids up, diffusing conflict, etc. Your kid's at-home education does not need not take up so much time. Remember, they are learning constantly. Baking is fractions. Cleaning is life skills. Getting along with siblings is learning cooperation — a soft skill they need in the real world.
Use What You've Got For Your Kid's Education
Our local zoo has daily presentations. So does the Chicago field museum and many others. Find them. Watch them. Your kids will look forward to them, and it gives them something to look forward to, a structure, a touchstone in these times when they're living in the upside-down.
You can do this, friend. You can take the reins of your kid's education. Go in confident and go in strong. Use this chance to get to know them and their interests, what sparks their passion. My kid wants to learn about Bigfoot all day? Awesome. Read adult-level internet research and report back in the form of an essay. Watch documentaries together and talk about them. Get outside and create Bigfoot's house.
Use the chance to teach them about the things they may not learn in school. Vietnam War? Runaway capitalism? The value of human labor? How viruses work? LGBTQ+ rights? The Stonewall riots? The AIDS crisis? How the stock market works? You are completely in charge of your kid's education right now.
Friend, you got this.
This article was originally published on