6 Tips For Successfully Blending Families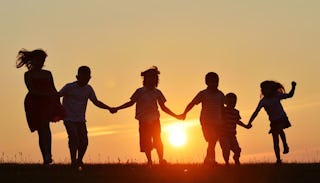 My husband and I have a blended family. Between the two of us we share six children, and four live with us full time. They range in age from 10-18 years. If anyone says there aren't huge transitional adjustments involved in such an undertaking, I would say they are lying and full of shit.
It's one thing to be a blended family, and it is quite another to be successful at it. Trust me.
Here's what I've learned so far:
1. Don't be a disciplinarian to your step kids. You are not a dictator in the new regime, so to speak. It is a tricky business because step kids aren't going to automatically place you in the role of mom or dad. If you come in all hot and heavy by reprimanding them for using up all their data on their phone or flunking a civics exam, well chances are there is gonna be some resentment brewing.
2. Don't try to be a replacement parent. Chances are they already have one and more than likely don't need another. A support? Yes. A Friend? Yes. Someone they can count on and trust? Absolutely.
3. I can't stress the importance enough of FAMILY MEAL. For us, it was one of the reasons my step daughter chose to move in with us full time. She loved that opportunity to be together. There is something powerful that occurs at a table when family gathers around it to share a meal. Some of our best conversations have gone on at our table. It is more about getting together than the actual food eaten. It builds a spirit of love, safety and trust. It is something they can count on. It is a great way to reconnect after busy days, and ever so needed for a blended family to stay on track. I'm not going to lie, it can also be a tense atmosphere depending on what has been going on relationally in the home. The positive in it, however, is we all showed up.
4. I love the concept of ONE ON ONE DATES, if you are able. Both with your own kids AND your step kids. It gives them a feeling of worth and value. They don't have to be huge expensive events. The library, a manicure or stopping for ice cream are great ways to incorporate some quality time with each kid.
5. DON'T TALK SMACK to your step kids about their bio mom or dad. It is just plain rude, and only looks bad on you. It is also something I believe kids don't forget. (I know I didn't!)
6. WITHHOLD FAVORITISM. No matter how hard you want your step kids to like you!
7. BE PATIENT. Blending a family successfully doesn't happen overnight. It takes time, years even. We are all adjusting and it will continue to evolve and be rocky and be lovely and be scary and be uncomfortable, but hopefully (my fingers are crossed here) your kids will look back and find that it was all worth it.
Related post: The Top Five Things No Step-Parent Wants to Hear
This article was originally published on