Boozy Ice Cream: Because You're An Adult And You Do What You Want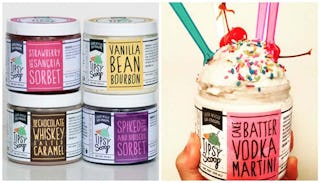 Tipsy Scoop is ice cream that actually has booze in it
There are benefits to being an adult, you probably just can't think of them right now because you're busy trying to sift through a mountain of bills while doing laundry and planning your work week. Adulting sucks. Then boozy ice cream comes along, and sort of makes being an adult worthwhile. It's 5% alcohol by volume, and hence can only be consumed by adults.
Suck it, kids.
Your kids have finally gone to bed and you sit and wonder, Do I want a bowl of ice cream or a glass of wine? Now you can have both. At the same time. As in, your ice cream is getting you drunk and everything is awesome.
Some geniuses in NYC created Tipsy Scoop, which "blends the magic of an artisanal hand-crafted ice cream with the mastery of a perfectly mixed cocktail." Sold.
You can buy it at a few locations in New York City and the company also ships inside NYC. If you live outside of NYC, you can order it on Goldbelly. No, it's not cheap — the above party pack is $75 when ordered in NYC and $109 when ordered through Goldbelly. But you can't say a boozy ice cream party with your friends wouldn't be worth it.
They also have ice cream sandwiches and boozy birthday cakes:
Considering most of us will never fully get out from under our mountains of debt anyway, what's a few hundred dollars spent on happiness going to hurt? Enabler, party of one.
Let's put it this way: You spent $50 on a Batman Imaginext cave that your son played with twice, and will now certainly end up in the Pacific Garbage Patch that is ruining our environment and speeding global warming. Seventy dollars on six pints of ice cream that will get you drunk is totally worth it.
Just be sure to recycle the containers.
This article was originally published on