To A Mother-In-Law Who Won't Let Go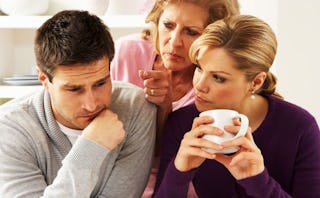 Shutterstock
Dear Mother-in-Law,
I feel a little insane writing this. After all the horror stories of women telling their daughters-in-law to lose weight or piercing their granddaughter's ears without permission, how can I complain about you?
I know my husband is your only son, and he has been your entire world since the day he was born. Now that I have a son of my own, I've experienced that ferocious motherly love, the kind that makes your heart explode with every smile and break with every cry. I love my son more every day, and he's only a few months old, so I can't imagine how I'll feel 20, 25 or 30 years from now.
With that being said …
1. Our son is not Version 2.0 of his dad.
I mention this because every time we tell you about your grandson, you respond with a comparison:
"Jack* doesn't like pacifiers? Oh, Brian just loved his pacifier!"
"The pediatrician said to start introducing solids at four months? Well, Brian would eat some peaches even at three months."
"I know Jack's hair is dark right now (like his mom's), but I bet it will turn red. Brian had red hair when he was a baby."
While I'm sure seeing your son with another tiny little boy brings back a flood of memories, I don't know if you realize you're treating Jack like he's the second coming of his father. Whether it's the time of day he was born, his sleeping habits or when he cut his first tooth, everything Jack does is put on a scale that ranges from "not like daddy" to "just like daddy."
Of course there are bound to be similarities between the two of them – after all, he does have half of his daddy's DNA – but Jack is a different person. On that note …
2. Please stop giving us memorabilia from my husband's childhood.
When you found out we were expecting a boy, Brian and I were truly touched that you brought us Brian's favorite set of Winnie the Pooh books that you used to read together every night. We even teared up a little at the gesture.
Since that time, you have continued to shower us with mementos from his childhood, including multiple pairs of baby shoes, blankets, faded outfits that haven't been in style for decades, and a half-scribbled picture from a coloring book.
It is so sweet (and a little obsessive) that you kept everything Brian ever touched, but please stop giving these things to us and asking us to take pictures of Jack using/wearing/holding them. Again, this goes back to my first point: Jack is not his father, despite the framed 8×10 picture of baby Brian you asked us to hang in the nursery to "see if the baby looks like his daddy." Speaking of which …
3. My husband is still your son, but he's not a baby any more.
Brian is the first to admit he was spoiled beyond belief growing up. "The laundry story" is legendary: You used to drive an hour and a half to Brian's college once a week, where he'd toss a bag of dirty laundry out of his dorm window into your waiting arms. You'd go home, wash the laundry and bring it back later that night, ironed and folded. Yes, six hours of driving in one day to do laundry for your 19-year-old son.
The first time I heard that story, I thought it was funny. It lost its humor when I realized the laundry wasn't just one incident of Brian being babied, but a pattern that's gone on for his entire life and has continued into our marriage.
Please stop telling him what clothes to wear to family events, buying him cards to send to family members on their birthdays, and stopping by just to see if our house is clean. We are adults. We can take care of these things ourselves.
Mother-in-Law, I know you have good intentions. I know everything you do and say stems from your intense love for Brian. I know when you look at him, you still see that rambunctious little boy with a bowl cut and a Power Rangers t-shirt – you've told me that much yourself.
But your refusal to allow him to grow up is keeping you from seeing what a wonderful, responsible man he turned out to be, and it's keeping you from truly appreciating your grandson for the totally unique little person he's becoming.
– Your Daughter-in-Law
This article was originally published on