The 'To All The Boys I've Loved Before' Sequel Is Official And We're Excited AF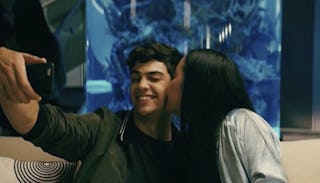 Image via IMDB
Fans will be over-the-top excited about this news
For all the Netflix-obsessed people out there (so, everyone?), get ready to lose your shit — the streaming giant just announced To All The Boys I've Loved Before 2 is officially happening.
The movie To All The Boys I've Loved Before (based on the 2014 novel by Jenny Han) was wildly popular over the summer, creating an almost cult-like following. If you haven't seen it, prepare your inner teen. It's about a high school junior, Lara Jean Covey, who writes private letters to all the boys she's loved before (bet you didn't see that coming). She locks them up in her closet when her little sis (whose name is Kitty, obviously) finds them and they suddenly find themselves in the hands of all her past loves.
Panic and total embarrassment ensues, followed by some social media drama and a love story between Lara (Lana Condor) and Peter Kavinsky (Noah Centineo) and BAM, you've got yourself an addicting teen film that we dare you to stop watching.
With its popularity, it seemed like a shoe-in to get a sequel, and with romantic comedies like Set It Up and The Kissing Booth warranting equal praise, it seemed a given. But there was no formal confirmation until this week, when the CEO of Paramount's company Viacom (who released the first film) said To All The Boys I've Loved Before 2 was official. Luckily, 2019 will be the year so fans don't need to wait very long to get their fill.
Han actually wrote a trilogy to follow Lara Jean and Peter's romance, P.S. I Still Love You and Always and Forever, Lara Jean, so here's hoping the sequel isn't the last of their love story to hit Netflix (which the stars themselves have been campaigning for some time).
Yes, it's a movie geared towards young adults, but it's a story for the ages. Netflix described it as one of the "most-viewed original films ever with strong repeat viewing," according to Digital Spy and if you've seen it once, you know why that is. It's like the Ferris Bueller or Pretty in Pink of this generation — you're not just watching it once.
And Han, for one, wrote it with that in mind. "There's so many things in the second book that I would love to see in a sequel," she told IndieWire. "The whole reason why I wrote a second book."
Bless you Jenny Han, bless you.